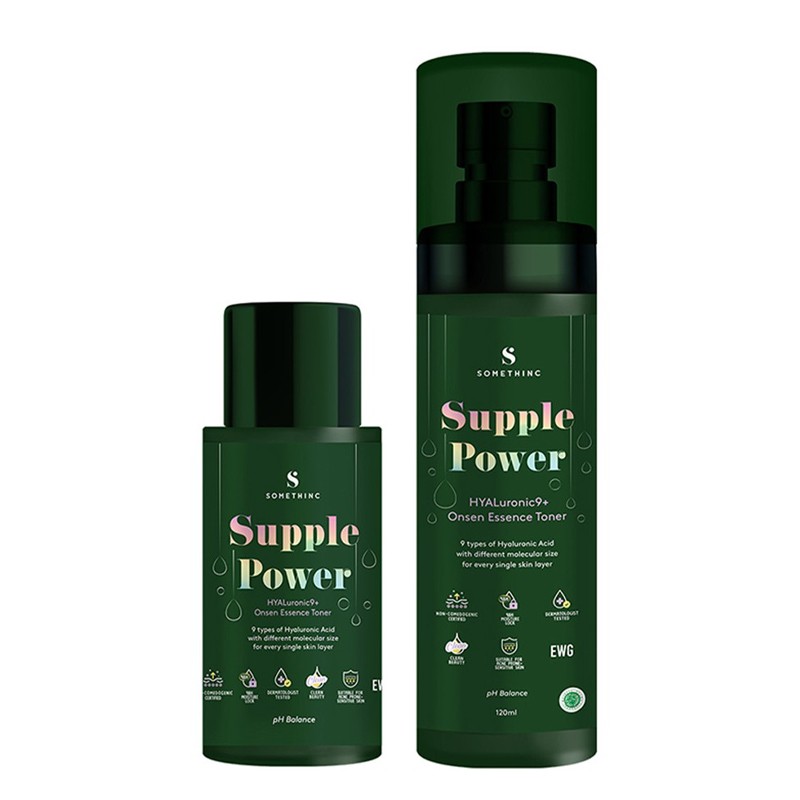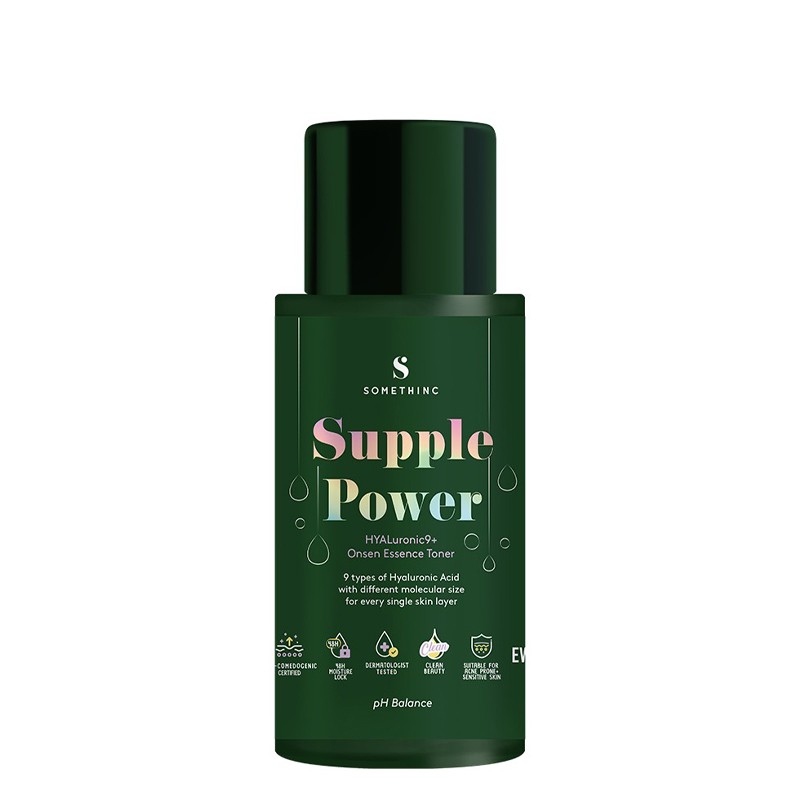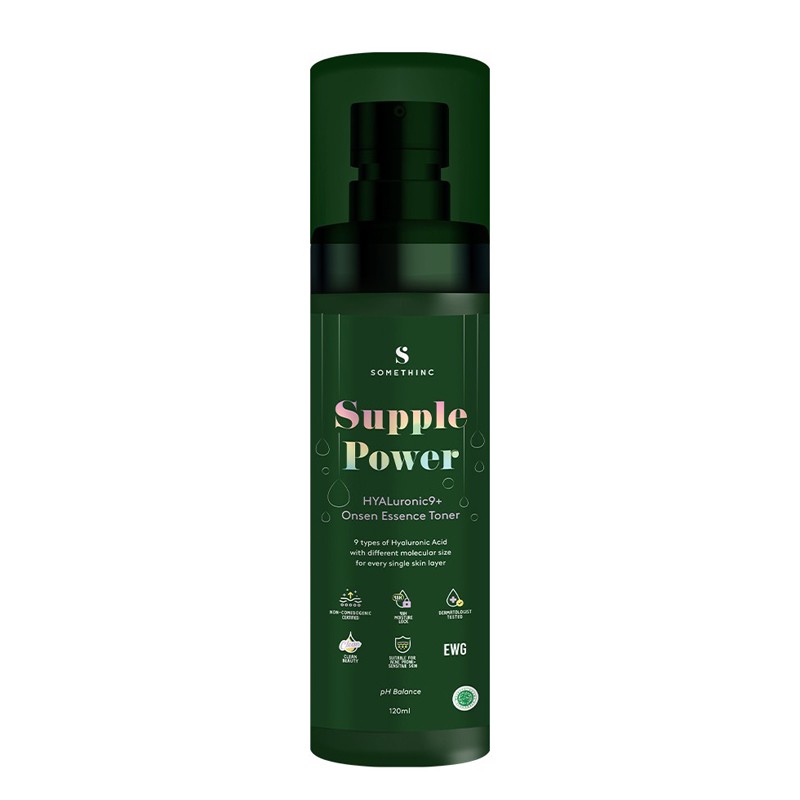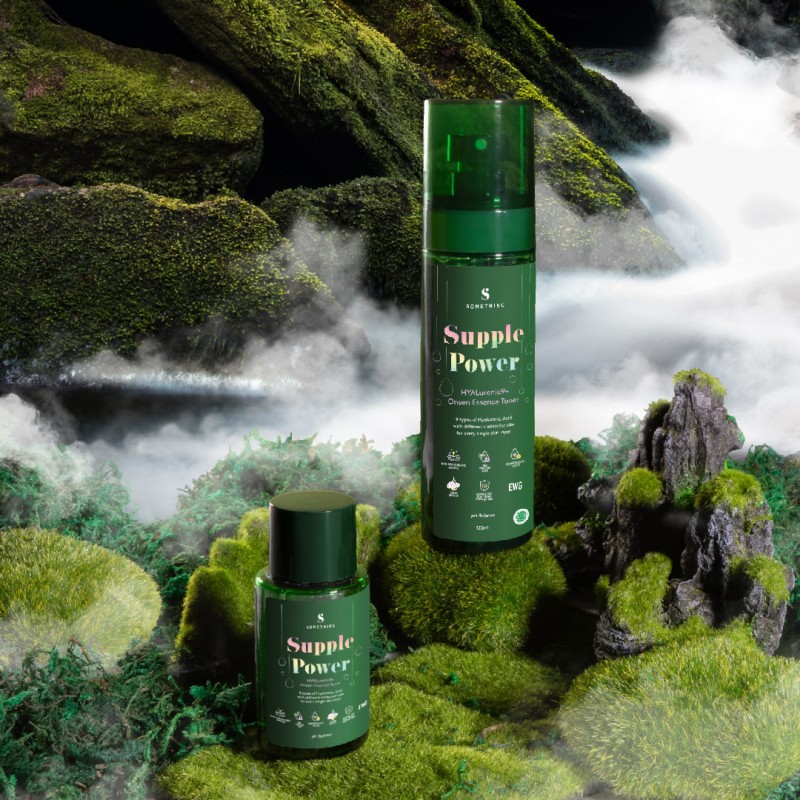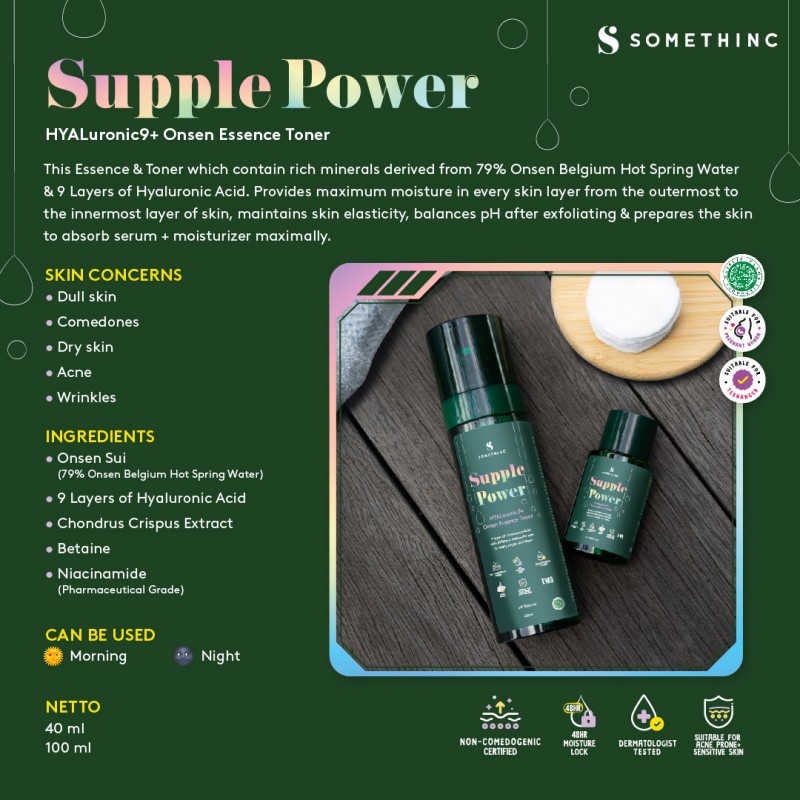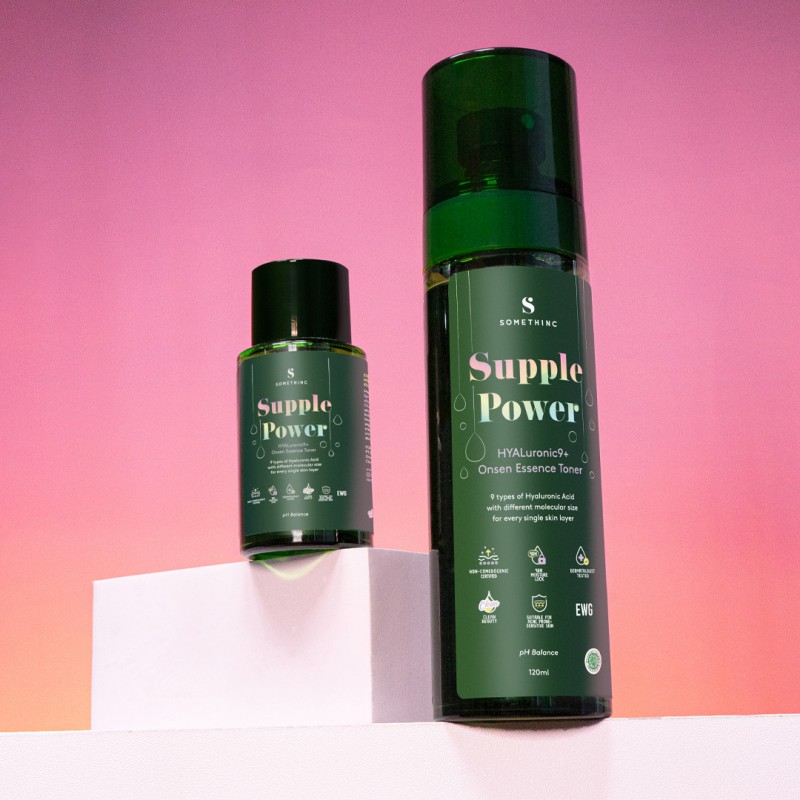 SUPPLE POWER Hyaluronic9+ Onsen Essence Toner
Rp 199.000
ESSENCE TONER FOR DEEP HYDRATION & NOURISHMENT!
Hydrate Deeply with 9 Layers of Hyaluronic Acid + Onsen Sui
Discover the freshness of 79% Onsen Belgium Hot Spring Water & 9 Layers of Hyaluronic Acid, which hydrates the skin to the deepest pores. Introducing you: Supple Power HYALuronic9 + Onsen Essence Toner, rich in minerals to provide maximum moisture in every skin's layer, maintain skin elasticity, balance skin pH after exfoliation & prepare skin to absorbs serum + moisturizer maximally. Get your Fresh & Supple Skin with Somethinc #SupplePower.
#SupplePower #HydrateDeeply
QUICK FACT:
Non-Comedogenic Certified
24HR Moisture Lock Test Passed
Dermatologist Tested
Suitable for acne prone + sensitive skin
NA18211200622
Read more
Skin Result
Safe Combine With
How to Apply
FAQ
Ingredients
Skin Result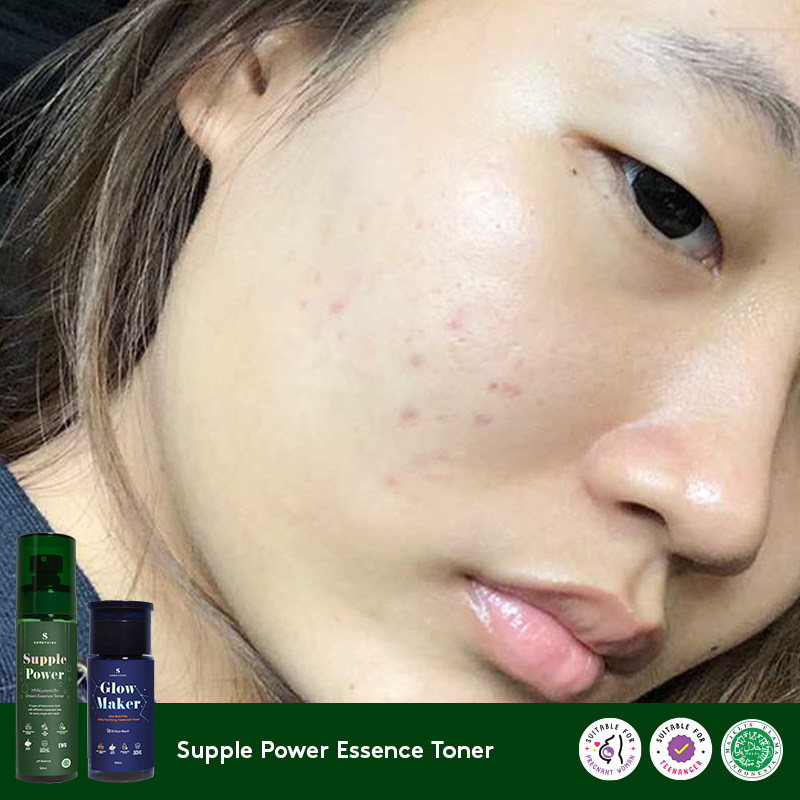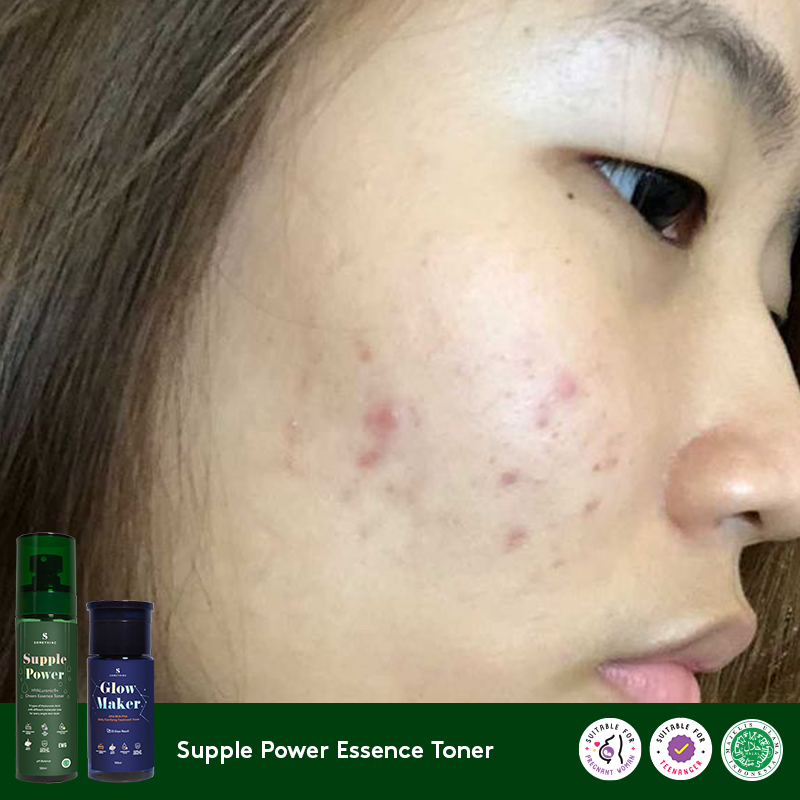 How to Apply
How To Use:
1. After washing your face, spray Supple Power HYALuroni9 + Onsen Essence Toner onto your palms.
2. Then gently pat all over the face & neck area using fingertips to aid absorption.
3. Continue with next skincare steps: Serum- Moisturizer- Oil Serum- Sunscreen.
FAQ
Is it safe for everyday use?
Yes. Supple Power Essence Toner is suitable to use everyday, Day & Night.
What is the Double Toning method?
A method when you use 2 different toners after double cleanse your face, which is Exfoliating Toner (AHA BHA PHA) to shed dead skin cells & Hydrating Toner to hydrate your skin. It will give you optimum benefit to absorb & other products faster, brighten dull skin, reduce whitehead, blackhead, large pores, makes skin healthier, supple & glowing.
What is the pH of Supple Power Essence Toner?
pH 5 (same as normal skin), this toner can re-neutralize the skin's pH after exfoliating and suitable for use even with sensitive skin.
Are Somethinc products already HALAL certified and already registered with BPOM?
Yes, Somethinc products already registered with BPOM and received a Halal certificate from MUI.
Is this product suitable for pregnant women/breastfeeding moms?
We have formulated the ingredients that already received BPOM standard approval. But considering that pregnant women sometimes have allergies to certain things & hormonal changes, it's better to consult the ingredients in your skincare products to an obstetrician.
I am a teenager, can I use this?
Yes, but we recommend this Supple Power for 11 years old and up.
Is there any synthetic fragrance in this toner ingredients?
No.
Ingredients
Star Ingredients:
Onsen Sui (79% Onsen Belgium Hot Spring Water)
9 Layers Hyaluronic Acid
Chondrus Crispus/ Carrageenan Extract
Betaine
Niacinamide (Pharmaceutical Grade)
Full Ingredients:
79% Onsen-Sui, Water, Niacinamide, Butylene Glycol, 1,2-Hexanediol, Dipropylene Glycol, Chondrus Crispus(Carrageenan) Extract, Caprylyl Glycol, Saccharum Officinarum (Sugarcane) Extract, Betaine, Sodium Citrate, Propanediol, Polyglyceryl-10 Laurate, Sodium Hyaluronate, Citric Acid, Adenosine, Allantoin, Hyaluronic Acid, Plumeria Alba (Frangipani) Flower Oil, Ethylhexylglycerin, Hydrolyzed Hyaluronic Acid, Hydroxypropyltrimonium Hyaluronate, Hydrolyzed Sodium Hyaluronate, Sodium Acetylated Hyaluronate, Caffeine, PEG-9 Diglycidyl Ether/Sodium Hyaluronate, Potassium Hyaluronate, Tocopherol, Dimethylsilanol Hyaluronate, Sodium Benzoate.
5.0
Write a Review
HYDRATING TONER TER-DAEBAK
Tertarik coba toner ini karena ada tagline double toning method dari somethinc, dan setelah aku pakai bareng sama Glow Maker yg AHA BHA Toner , wah ga main-main kulitku yang tadinya udah cerahan karena emg rajin pakai serum somethinc jadi makin glowing dan gaada maskne, alhamdulillah bisa buat CSM juga, gacuma aku yang pake ini tapi mamaku yang 50thn juga pake hahaha
Review murniiiiiiiii
Definisi lebih dari adem, menenangkan kulit bgt pas di apply mo cry
Recommends this product
Rayu patnawati
16/04/2021
review
teksturnya santuy banget tapi manfaat dan kandungan nya mantul banget yang aku butuhin banget
Recommends this product
Supple Power Hyaluronic9+ Onsen Essence Toner
Toner yang bikin kulit ku terasa lebih lembab, aku pakai toner ini setelah pakai Glow Maker dan hasilnya kulit jadi lebih enakan, teksturnya halus dan lembab
Recommends this product
Riyan Suhariani
14/04/2021
Hydrating Toner Ter The Best
Hydrating toner yg bener" bagus bgt, bner" melembabkan kulit, suka bgt dengan aroma nya , ingredients nya no kaleng"..2 in 1 essence + toner, pkoknya hydrating toner yg harus ada dan wajib punya, nyesel kalau gag coba.. recomended bgt
Recommends this product