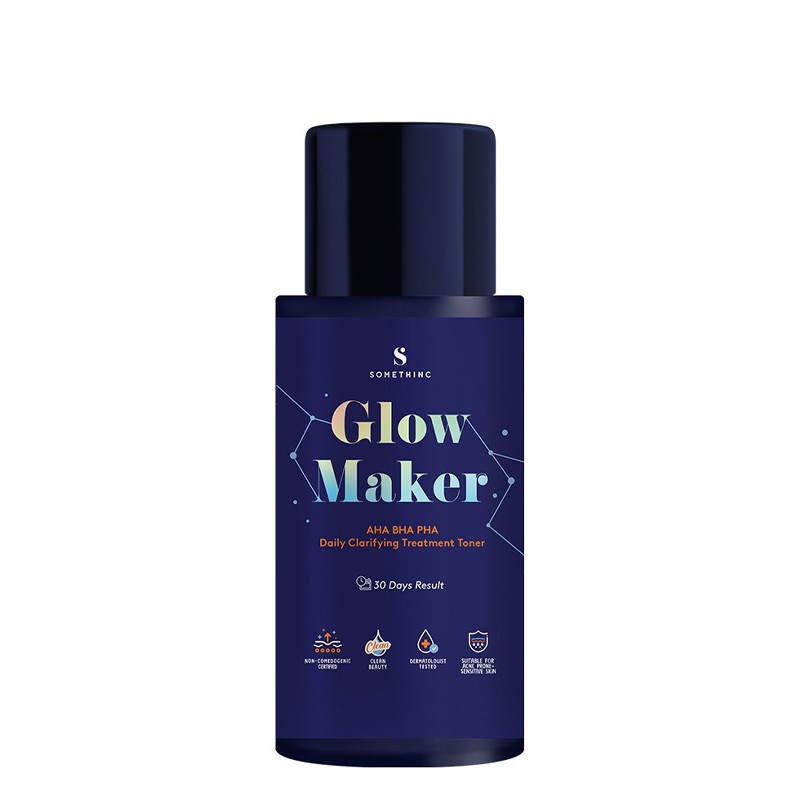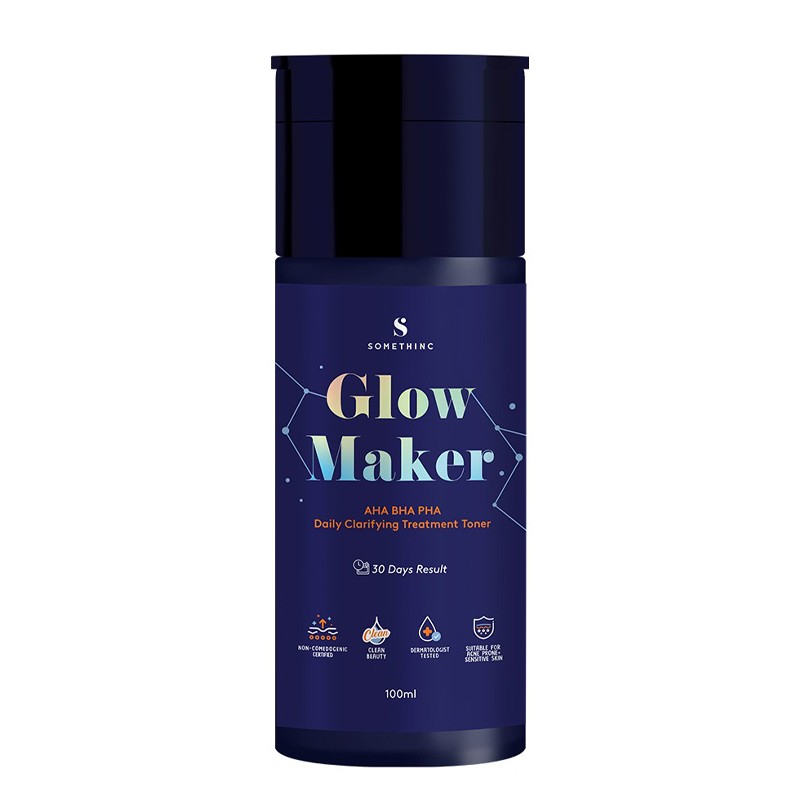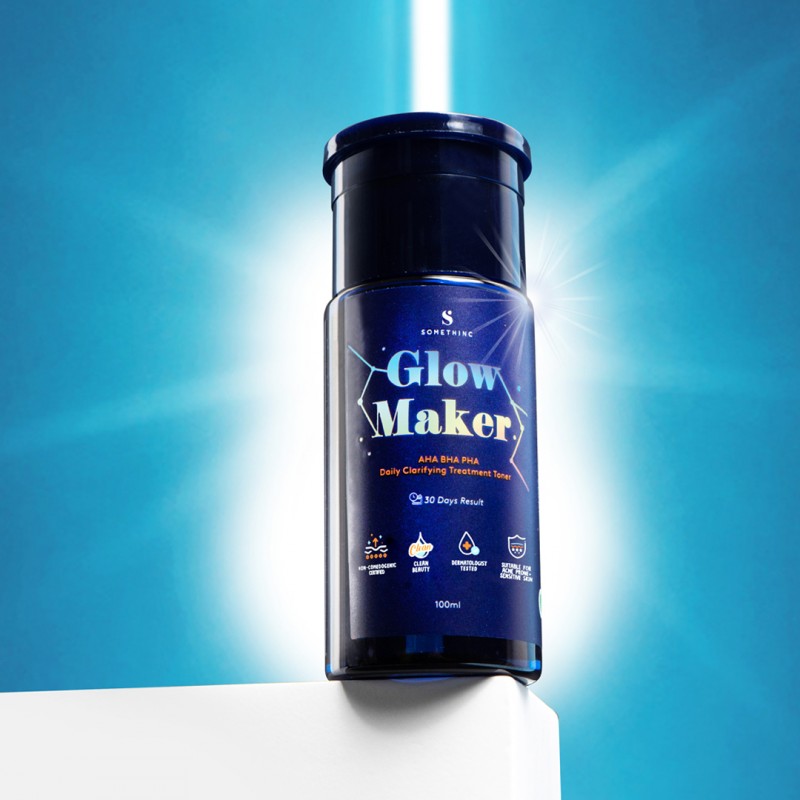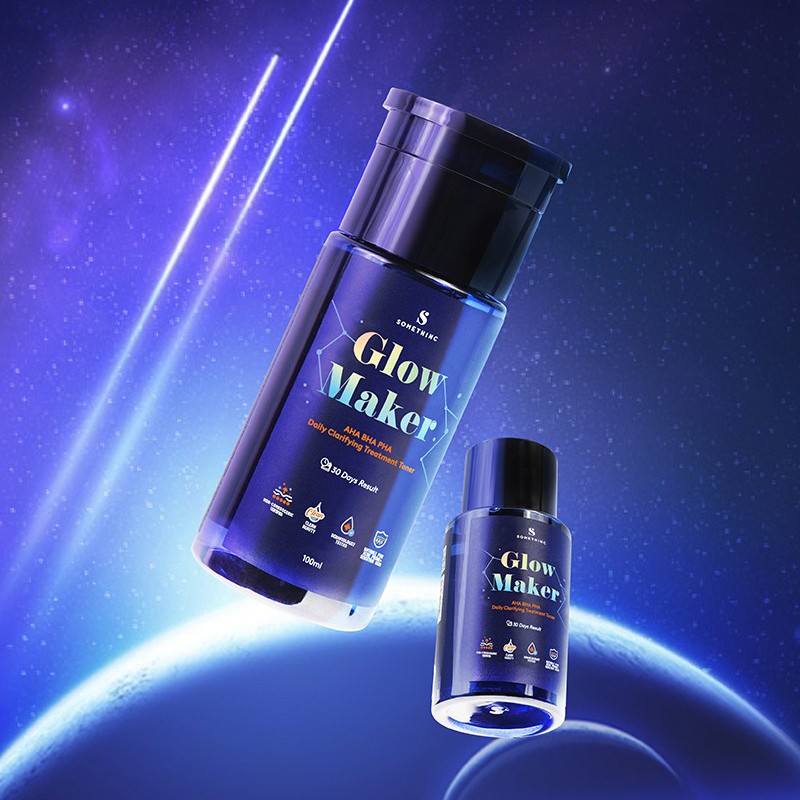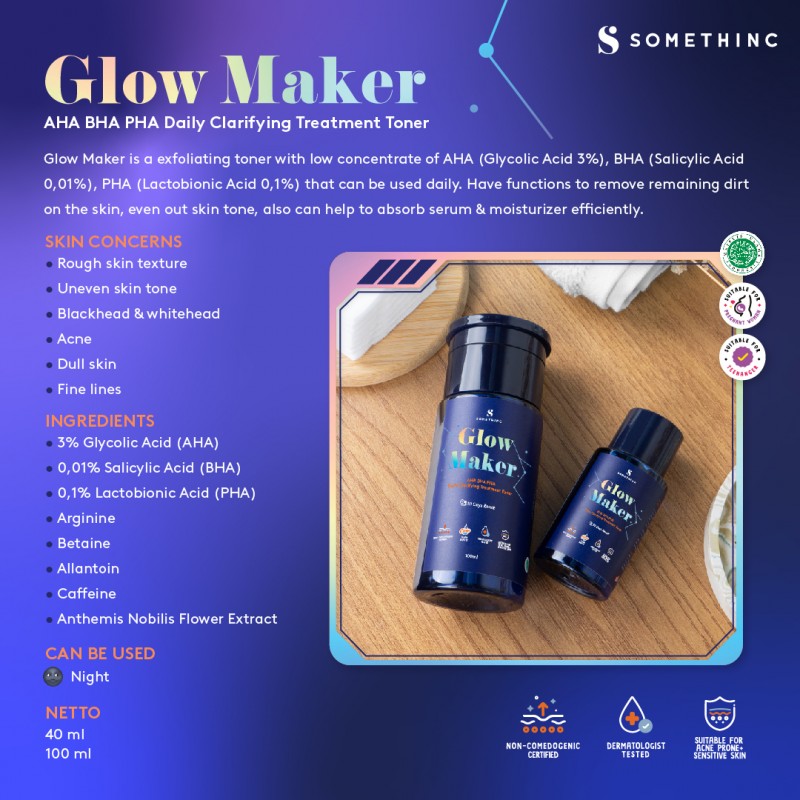 GLOW MAKER AHA BHA PHA Clarifying Treatment Toner
Rp 119.000
MAKE YOUR OWN GLOW IN 30 DAYS WITH #GLOWMAKER!
Daily Exfoliating Toner for Beginners
A Mild Daily Exfoliating Toner with a low % of AHA, BHA, PHA that is suitable for beginners or sensitive skin. Exfoliate from the skin's deepest layer to the outermost layer. Clinically proven to Get rid of dead skin cells, Unclogged pores, Soften your skin texture, Even out skin tone, Removes the remaining dirt so that the skin can absorb serum + moisturizer efficiently, Fight Acne, blackheads & whiteheads in 30 days. Let your skin glow!
#GlowMaker #ExfoliateGently
QUICK FACT:
Non-Comedogenic Certified

Dermatologist Tested

Suitable For Acne Prone+Sensitive Skin

Alcohol-Free
NA18201204357
Read more
Skin Result
Safe Combine With
How to Apply
FAQ
Ingredients
Skin Result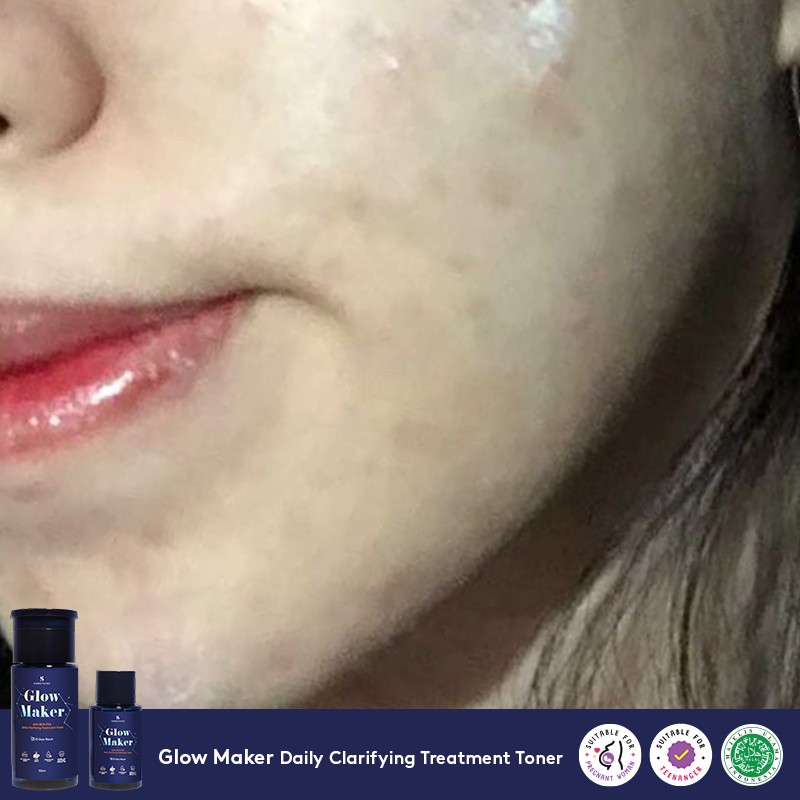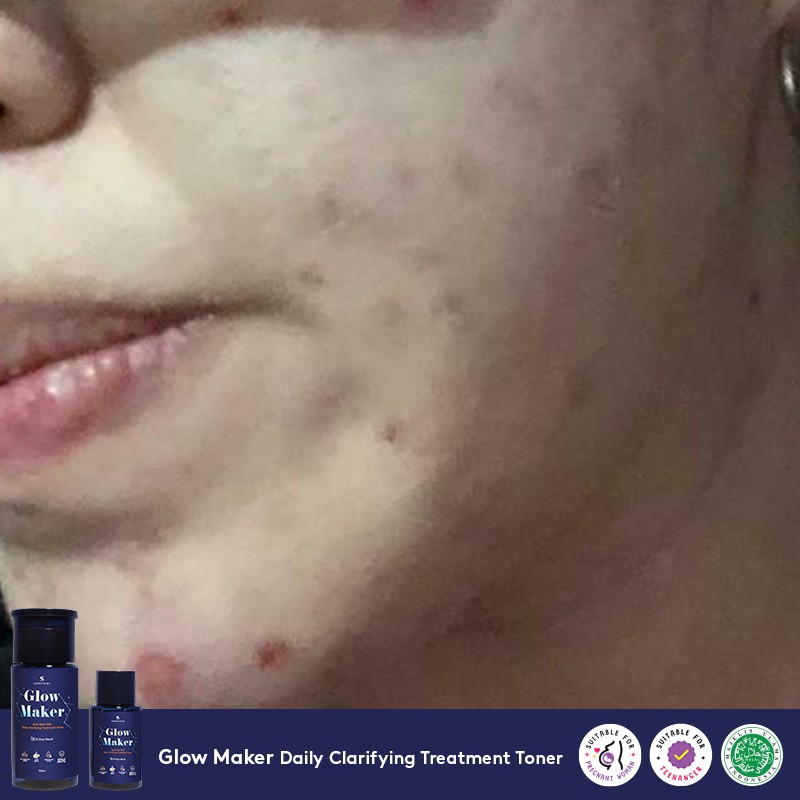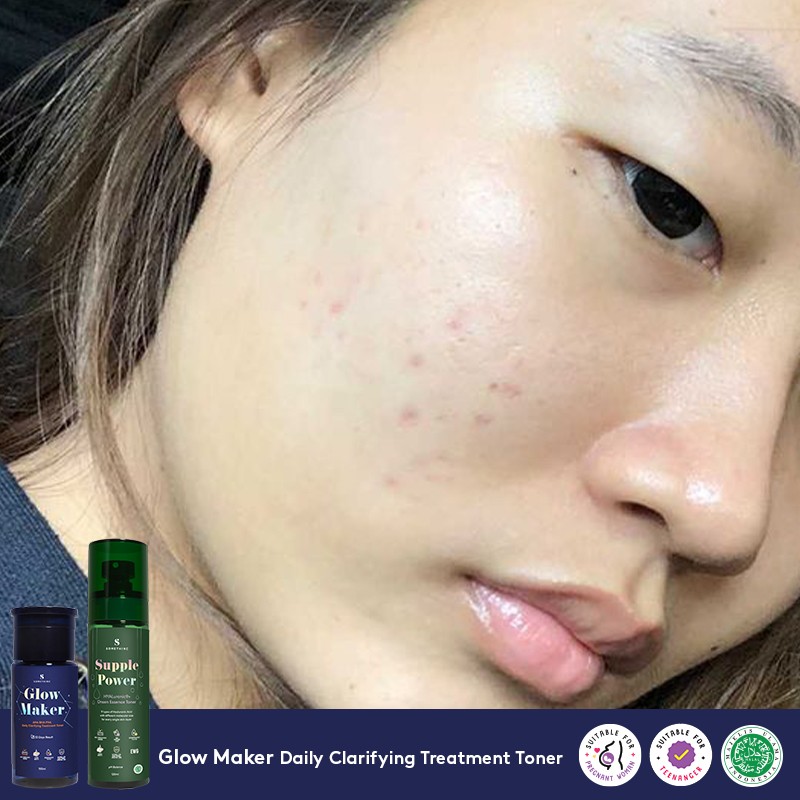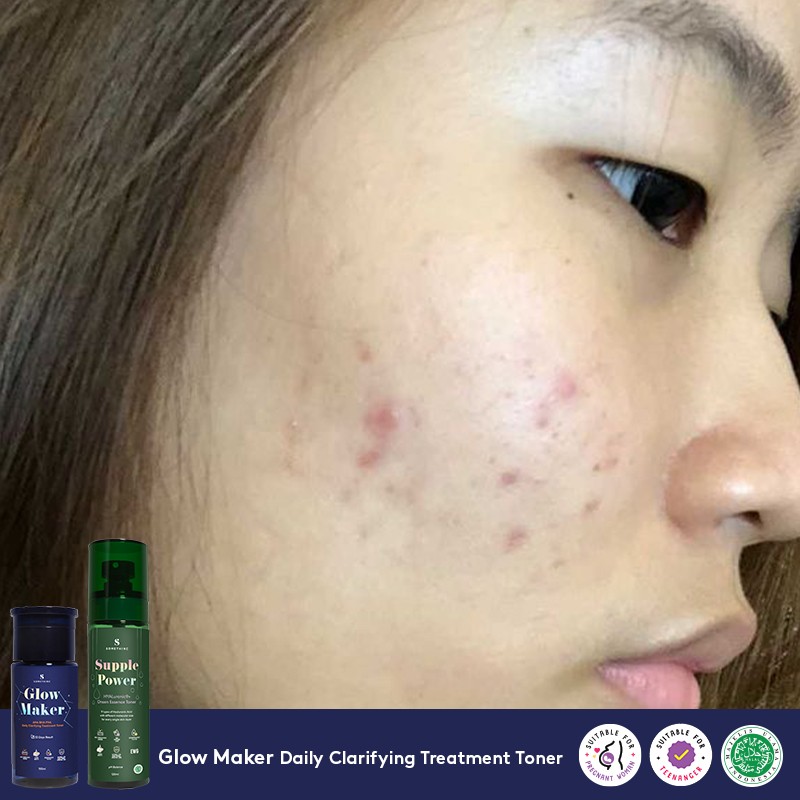 How to Apply
How To Use :
1. Use it after cleansing your face at night.
2. Press the Glow Maker Exfoliating Toner using a cotton ball.
3. Apply gently to the face (neck & body). Avoid the eye & lip area.
4. Then apply Supple Power HYAluronic9 + Onsen Essence Toner to neutralize skin pH.
FAQ
Is it suitable for daily use?
Yes. Glow Maker Daily Clarifying Treatment Toner is suitable to use everyday, Use ideally in the PM, no more frequently than once per day. It is better to wait for 3-7 days before using products with exfoliating properties, IF you're doing laser treatment/microdermabrasion.
What is the pH of Glow Maker?
Glow Maker's stability is at pH 3-4. Supple Power Essence helps to balance your skin pH back.
Can I use it for my dry skin?
Yes. Glow Maker Daily Clarifying Treatment Toner is gentle & contains a low percentage of exfoliating doses: AHA 3%; BHA 0.01%; PHA 0.1%. Exfoliate Gently & maintain the skin moisture.
What is the Double toning method?
A method when you use 2 different toners. Exfoliating toner (AHA BHA PHA) to shed dead skin cells & Hydrating Toner to hydrate your skin. It will give you optimum benefit to absorb serum & other products faster, brighten dull skin, reduce whitehead, blackhead, large pores, makes skin healthier, supple & glowing.
Are Somethinc products already HALAL certified and already registered with BPOM?
Somethinc products already registered with BPOM and received a Halal certificate from MUI.
Is this product suitable for pregnant women/breastfeeding moms?
We have formulated the ingredients that already received BPOM standard approval & a low percentage of BHA (2% or lower) is suitable for use during pregnancy. But considering that pregnant women sometimes have allergies to certain things & hormonal changes, it's better to consult the ingredients in your skincare products to an obstetrician.
I am a teenager, can I use this?
Yes, but we recommend this Exfoliating toner for 17 years old and up.
Is there any fragrance in this toner ingredients?
No.
Ingredients
Star Ingredients:
Glycolic acid (AHA)
Salicylic Acid (BHA)
Lactobionic Acid (PHA)
Arginine
Betaine
Allantoin
Caffeine
Anthemis Nobilis Flower Extract
Full Ingredients:
Water, butylene glycol, Glycolic Acid, Arginine, 1,2-hexanediol, Betaine, Allantoin, Lactobionic Acid, Anthemis Nobilis Flower Extract, Salicylic Acid, Caffeine
4.9
Write a Review
Nurul Auliya Salsabila
04/05/2021
Membuat muka menjadi halus
Ini termasuk gentle exfoliator yg bisa dipake tiap hari. Setelah 2 minggu pemakaian dibarengi Supple Power bikin tekstur muka jadi halus.
EXFOLIATING TONER TERMANTULLLSSSS
Super excited sih pas coba pakai yg 40mlnya Glow Maker ini, karna sebagus itu angkat dosa-dosa diwajah setelah cuci muka.. Repurchased uda 1 x awal bulan kmrn check out lumayan kan ya abis gajian dan THR-an
Recommends this product
Ika Fitri Rohandayani
27/04/2021
GLOW MAKER AHA BHA CLARIFYING
Setelah pemakaian 1-2minggu kulit saya terasa bersih dan tampak lebih cerah plus halus. Top deh buat somethinc, tidak hanya itu bisa menampilkan keglowingan kulit juga. luvvv
Recommends this product
Glow maker
Kalau males pakai aha bha harus dibilas, ini alternatif terbaik sih. mengupas tuntas sampe ke akarnya :D
Recommends this product
Shelly Iskandar
24/04/2021
Recommended
Suka banget sama supple power toner ini. Somehow aku ngerasa teksturnya mirip lamer dengan harga super terjangkau. Hasilnya lembab di kulit tapi ga lengket. Aromanya juga bikin calming. Well done!!
Recommends this product