HALAL Certification
100% of all Somethinc products already have a Halal Certificate.
So Don't worry ♥
When will it be restocked?
If the product you want to purchase is Out Of Stock, please leave an email in the "Notify Me" box to get an automatic email when the product is Restock. ♥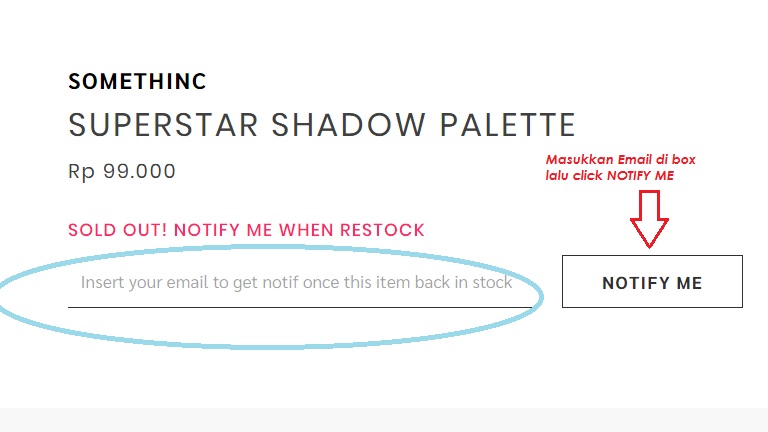 Is the product suitable for everyday use?
All of our products have passed the test from the BPOM (Food & Drug Inspection Agency) & have halal certification.
So that all of our products are certainly suitable to use because all their compositions have been tested.
See & follow the instructions for using each product in the "Description" & "How To Use" section of each product.
How can I become an official reseller?
Is the product that I bought at this A / B store authentic?
We have Official Resellers on the OFFICIAL RESELLER LIST page
All products at our Official Reseller are authenticity guaranteed & have PT Royal Pesona Indonesia hologram stickers.
When will my items be delivered & when do I get a shipment receipt?
All delivery receipts will be updated via Email within 1x 24 hours working days (Monday- Friday)
If the payment confirmation is made within working hours, 10 am- 4 pm. Then the delivery will be made H+1 after the payment process.
The receipt will be updated H+1 after payment is confirmed.
Sometimes, if a new product launch/restock & delivery is busy, we also need additional time up to 3 days to process your order as best as we can.
Our maximum delivery is 3 working days. Please tolerate & be patience to wait ♥
All transactions & deliveries are only carried out according to working days (Monday-Friday). There is no delivery on public holidays.
If you place an order on holiday, the order will be processed the next day after our team returns.
I received the wrong product. Can it be returned/replaced?
If the product sent by our team has an error, We will send back the same product & refund the Shipping Fee for all products returned to us.
Returned products must be in sealed condition & have not been tried/used at all. The Return process usually takes 3 working days.
The maximum claim is submitted H + 1 week from the date of delivery
What about the shipment? And how much the delivery cost?
Our delivery using J&T, and we deliver from Jakarta.
For shipping fees, you can check directly on the following sicepat website: SHIPPING FEE
All transactions & deliveries are only carried out according to working days (Monday-Saturday). There is no delivery on public holidays.
How to order?
1. Choose selected items, then click ADD TO CART
2. After that, click the CHECKOUT button
3. Login first if you already have an account/register if you don't have an account
You can also use Guest Checkout if you don't want to register
4. Click shopping cart then CHECKOUT
5. Fill in the data in the column & NEXT STEP.
6. If there is a Voucher code/ Referral, please enter the code into the box.
If you don't have any Voucher/Referral, please click the NEXT STEP button directly.
7. Click COMPLETE ORDER to get ORDER ID along with total order & account number to make payment
8. If you already made a payment, please confirm via CONFIRM PAYMENT link that available on the Invoice that sent to your E-mail / via our website
9. Your payment will be confirmed within 1x24 working hours (Monday-Friday: 10-5 pm) & (Saturday: 10-2 pm)
10. All payment checks, chat, & shipping will be done within the working hours above. If payment is made outside of working hours, it will be done when our team comes back <3
11. Delivery will be done H + 1 if payment has been received & confirmed by our team. You will get an e-mail when the payment has been confirmed.
12. Receipts will be updated H + 1 from the date of delivery (not from confirming payment).
Thank you for loving us :)
Where can I ask for consultation?
You can consult with our Virtual BA on Whatsapp:
081316002019