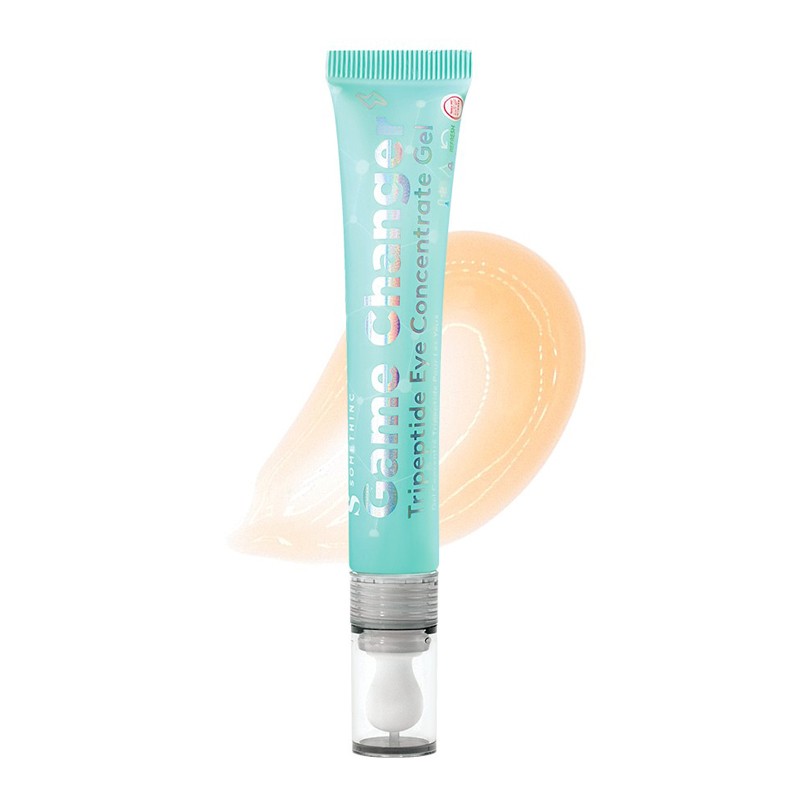 GAME CHANGER Tripeptide Eye Concentrate Gel
Rp 145.000
A Game Changer that contains 3 Powerful Peptide to treat skin contour around the eyes, overcome eye fatigue such as Dark Circles, Eye Bags, Wrinkles, & Aging in the eyes due to everyday exposure to blue light.
It also smoothens & provides moisture in the eye skin area, so the eyes look fresher. Increase skin elasticity, brightens dark circles (in 3-4 weeks), hydrate for up to 18 hours, & prevent free radical damage with antioxidant power from Poria Cocos Extract.
This lightweight gel texture absorbs quickly & leaves your eye area feeling soft and awaken
BEST FOR:
- Dark Circles
- Puffiness
- Fine Lines & Wrinkles
More Information:
Arthicoke & Caffeine scientifically proven can visually reduce fat nodes & improves skin firmness & rejuvenates eye area (in vivo), & contains a blend of viscosity Boosting agent such as paraffin & glyceryl stearate, designed to accelerates the skin's surface activity to hydrate, replenish, & reduce the eye bags.
Fragrance-Free, Paraben Free, No Sulfate
NA18202000193
Read more
Skin Result
Safe Combine With
How to Apply
FAQ
Ingredients
Skin Result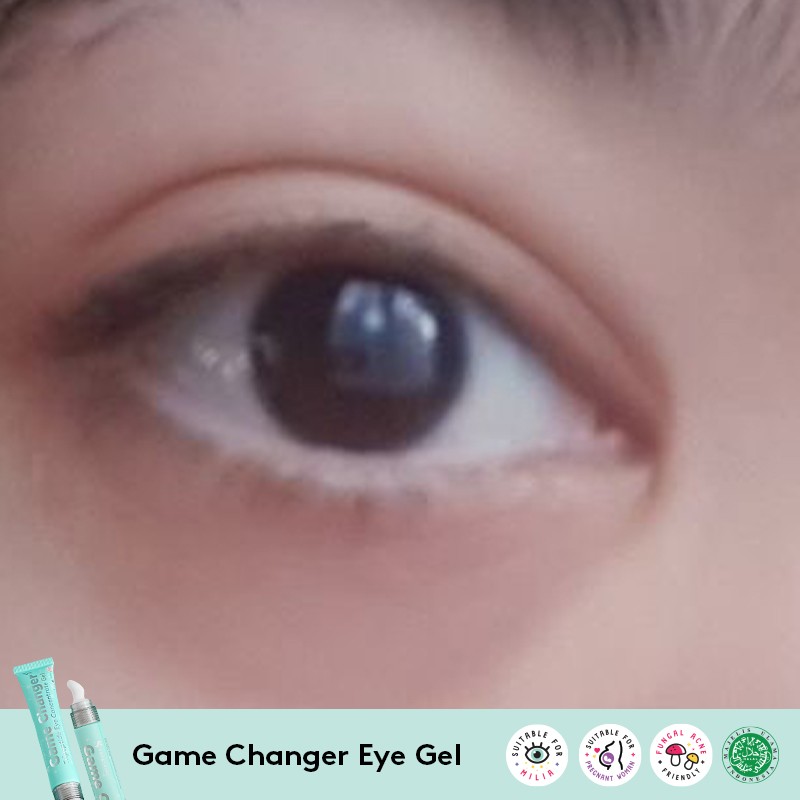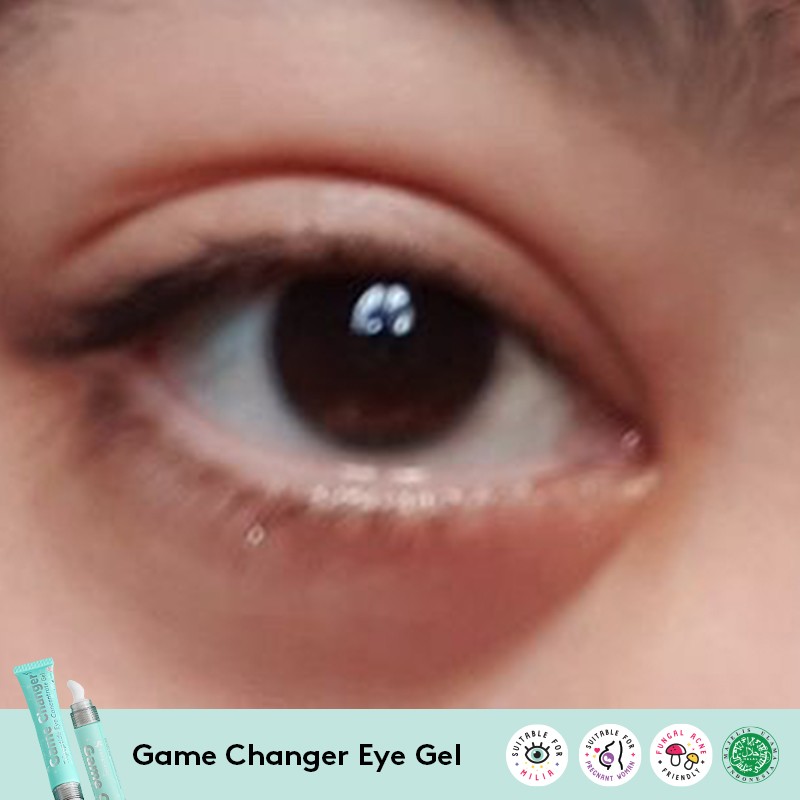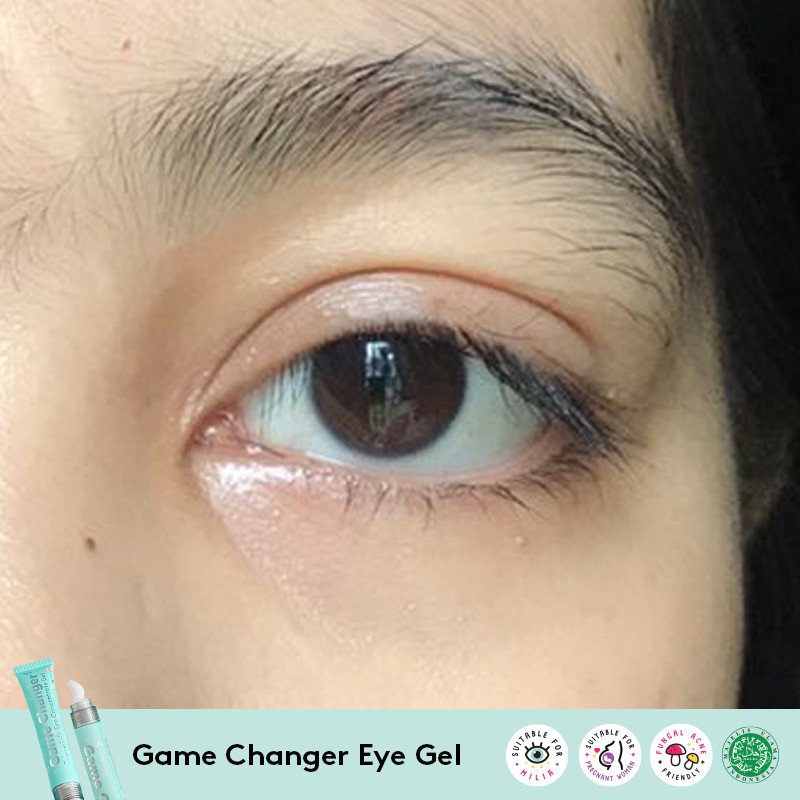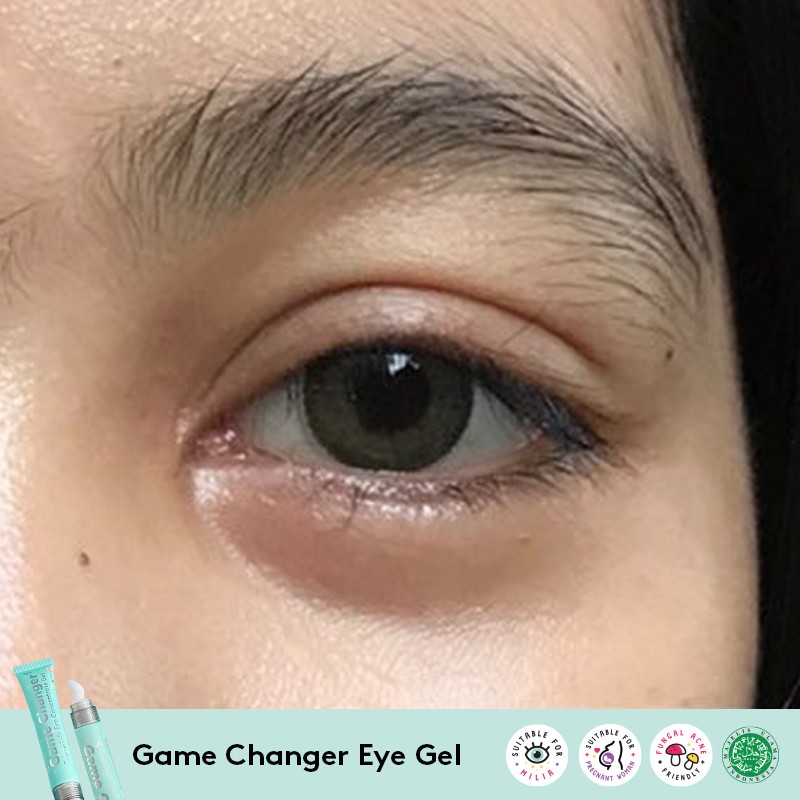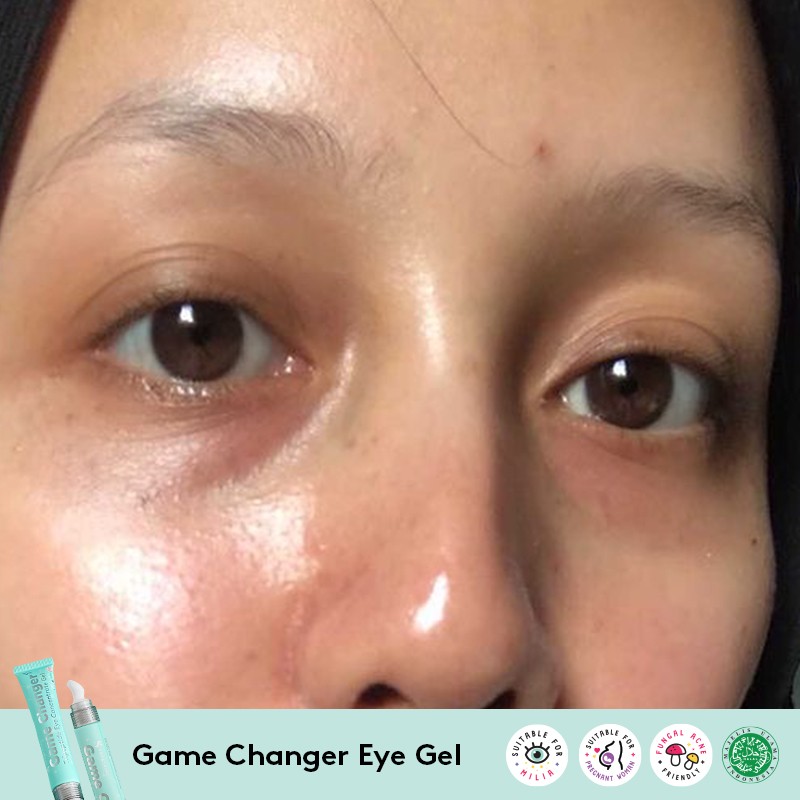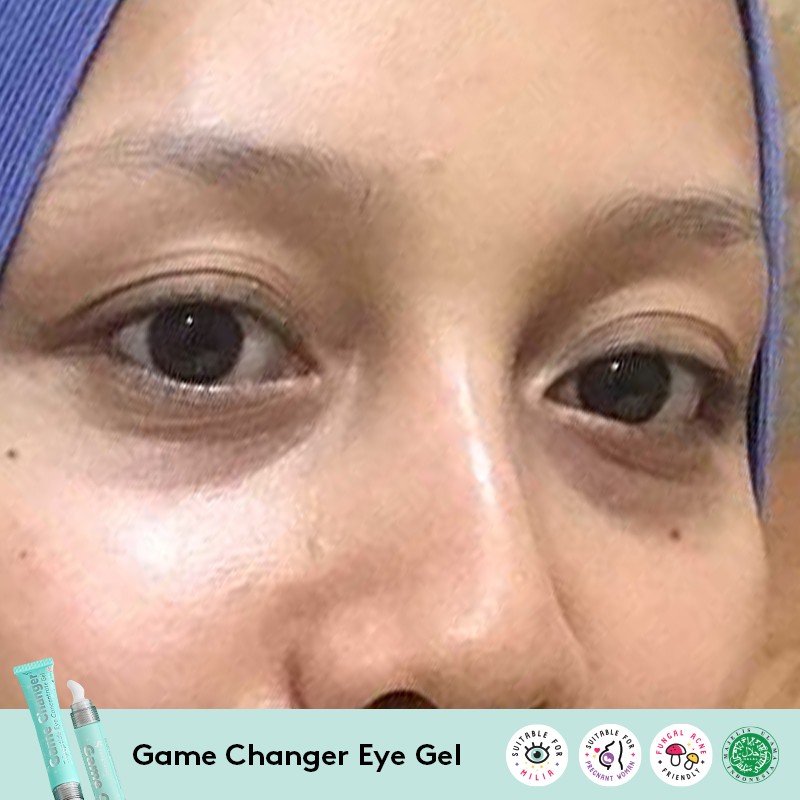 How to Apply
How to use it on its Own:
Press out the eye gel until a pea-sized amount of product. Use the ceramic tip with the pat method, gently tap the product around your orbital bone to stimulate circulation, moving from the outer corner to the inner corner of the eye. Use it 2 times in the morning & night for maximum results. It can be stored in the refrigerator to get cooling sensation. Can be used as preparation before makeup without causing patchy.
How to use with a whole skincare routine:
After cleansing, apply facial toner. Then apply 5 - 10 drops of serum. After you've waited 1-3 minutes for the serum to absorb, apply your Game Changer Eye Gel. Then you can use Bakuchiol Skinpair Oil Serum & Ceramic Skin Saviour Moisturizer at the same time. For the final step, apply sunscreen to protect your skin from UV rays.
FAQ
At what age should I start using this Eye Gel?
The skin around our eyes is thinner and more sensitive than the rest of our face, which is why the delicate eye contour is generally one of the first areas to show visible signs of aging. You can use the Tripeptide Eye Gel Game Changer from the age of 11.
Can Game Changer prevent milia?
Yes, Game Changer Tripeptide Eye Gel will not cause milia to get worse.
Does Game Changer reduce eye bag & dark circle?
Yes, of course! A Game Changer that contains 3 Powerful Peptide to treat skin contour around the eyes, overcome eye fatigue such as Dark Circles, Eye Bags, Wrinkles, & Aging in the eyes due to everyday exposure to blue light.
When should I use Game Changer?
The product, Game Changer, is safe to use both mornings, night, and before makeup.
Is it safe for everyday use?
Yes, it is! You can use it both morning and night.
Is this product safe for pregnant women/breastfeeding moms?
The ingredients that we have formulated already received BPOM standard approval, so our products are safe for daily use. But considering that pregnant women sometimes have allergies to certain things & hormonal changes, it's better to consult the ingredients in your skincare products to an obstetrician.
Ingredients
Star Ingredients:
Acetyl TetraPeptide-5
DiPeptide-2
OligoPeptide-5
Caffeine
Aloe Vera
Poria Cocos Extract
Hyaluronic Acid
Cynara Scolymus Leaf Extract
Full Ingredients:
Aqua, Aloe Barbadensis leaf extract, peg/ppg/polybutylene glycol-8/5/3 glycerin, butylene glycol, hydroxyethyl urea, polyacrylamide, C13-14 isoparaffin, laureth-7, Poria Cocos Extract, Acetyl TetraPeptide-5, DiPeptide-2, phenoxyethanol, Hyaluronic Acid, fructan, Cynara Scolymus Leaf Extract, decyl glucoside, phenethyl alcohol, citric acid, glucose, Caffeine, xanthine, bisabolol, cholesterol, alcohol, Hydrogenated lecithin, 1,2-hexanediol, OligoPeptide-5, CI16255, CI15985
4.8
Write a Review
Claudya Chyntia
16/04/2021
eye gel tercocok buatku
aku udah berkali2 ganti produk krim mata sampe rasanya hampir nyerah. gara2nya tuh gapernah ada yg cocok, selalu timbul milia. udah coba berbagai macam merk pdhl. akhirnya mutusin utk nyoba somethinc krn sbnrnya aku butuh, mata pandaku parah. dan aku cocok dong! seneng banget gaada milia bahkan sampe sebulan ini aku pake. mata pandaku agak memudar walau belum terlalu signifikan. ya maklum udah parah sih tp gpp aku tetep bakal pake krn mmg se luuvv itu
Nita Purwaningsih
15/04/2021
Memuaskan
Eye gel pertama kali ada aplikatornya yang kutau ini. Suka banget, cocok untuk undereye ku yang kehitaman, kelelahan??
Recommends this product
First try
Aku pake ini udah hampir sebulan belum berasa efek apa2. Goals ku menghilangkan mata panda dan belum keliatan efeknya kalo garis halus ga terlalu merhatiin juga sih
Recommends this product
Miwa Takasima AG
18/03/2021
Keren
awalnya rada enggk yakin gitu, masa sih bisa. tp syukurnya ini ngaruh di aku. dari yang awalnya kantung mata gelap sekrng rada lebih cerah gitu. kantung mata juga mulai mengcil. walaupun belum 100 persen hilang tapi ini jauhhhhhhh lebih baik dr sebelumnya
Recommends this product
Diana julianti
17/03/2021
Mau sungkem ama rene
Gokil sih,afordable tp efektif,formula nya gel enak bgt dna aplikatornya cerdas bgt.luuuv!
Recommends this product