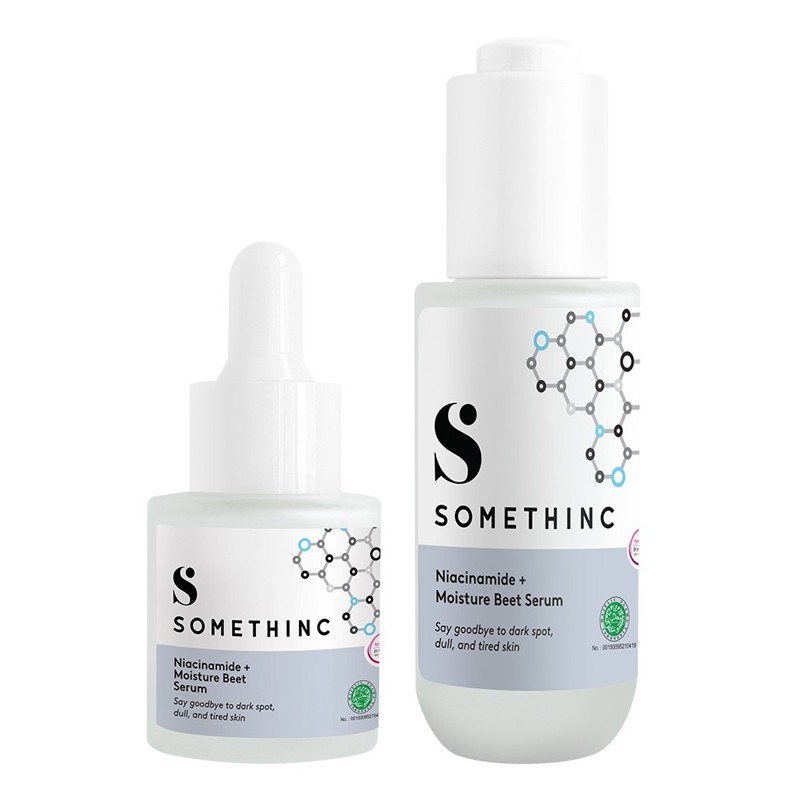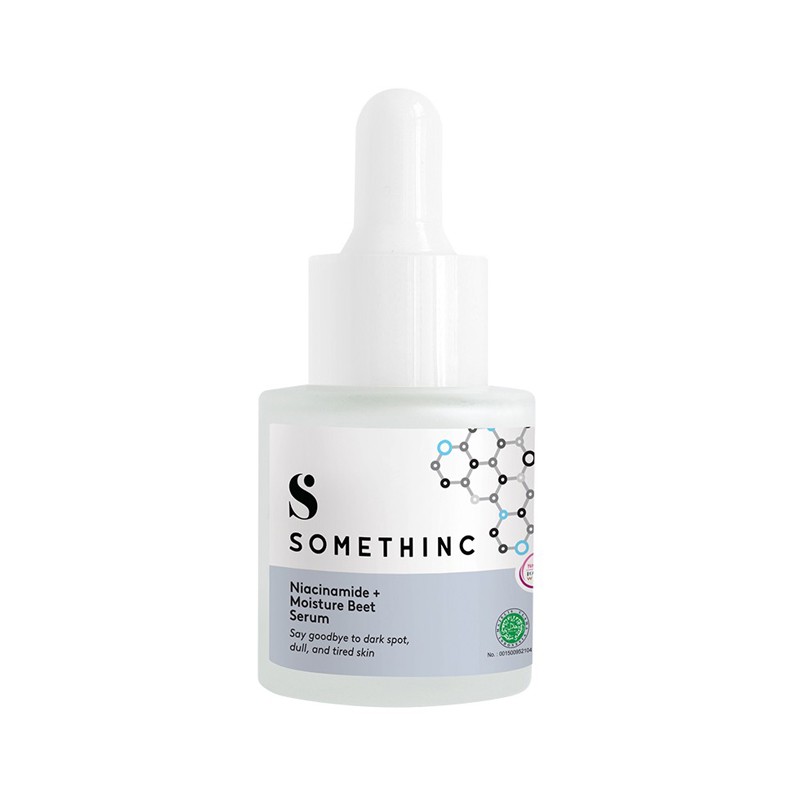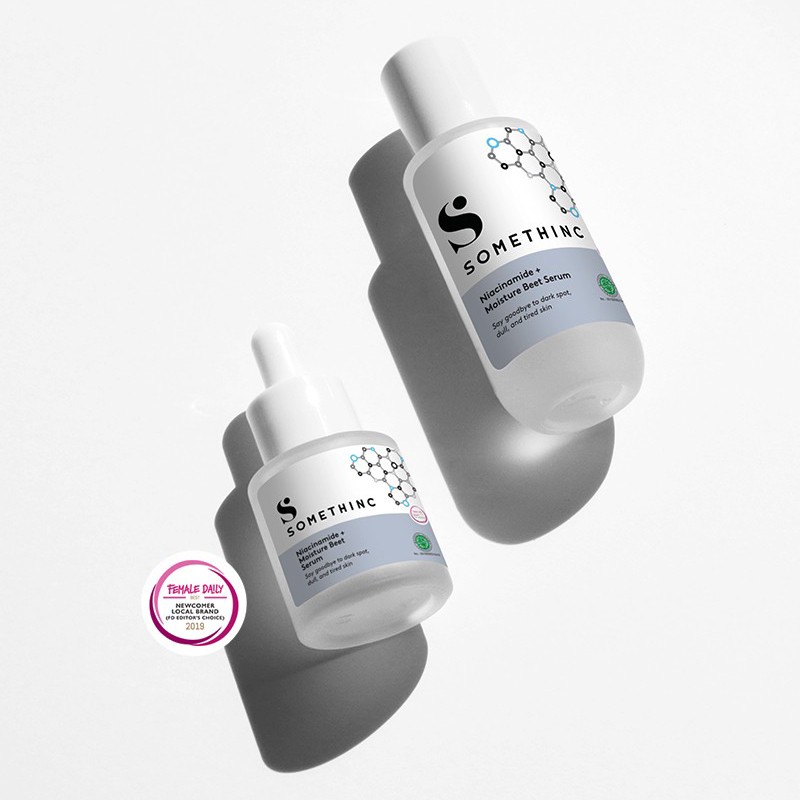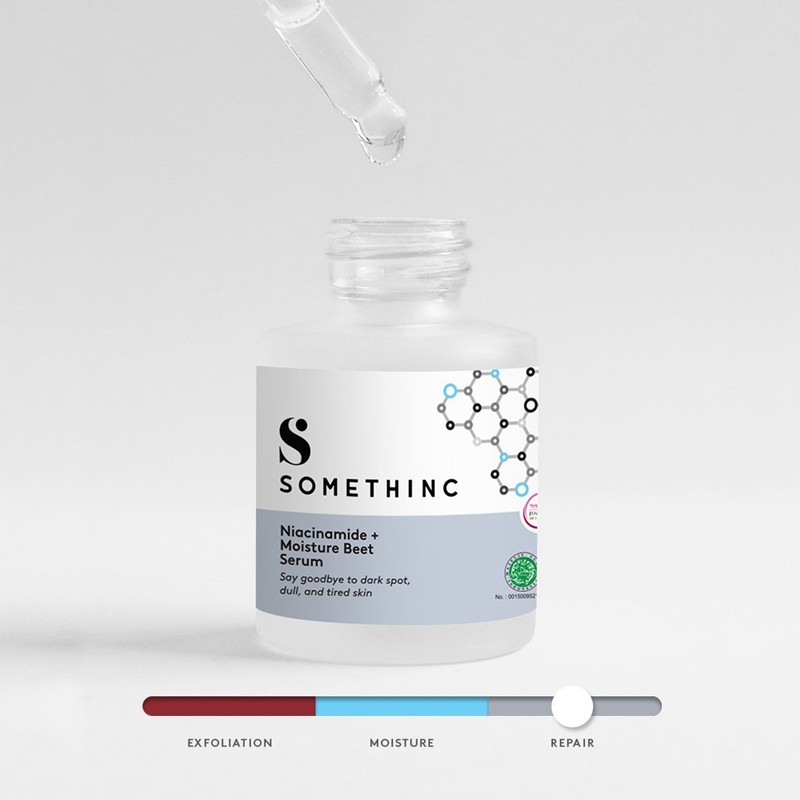 Niacinamide + Moisture Beet Serum
Rp 115.500
Say goodbye to Dark Spot, Dull, & Tired Skin!
Niacinamide boosts barrier function by increasing ceramide production, while Beetroot fights Free radicals & moisturize the skin.
Key Ingredients: 10% Niacinamide (Full Active Ingredients) + 100% Beet Extract from Swiss
Description:
Help to Brighten, Improve your Skin Texture, Strengthen Skin barrier, Disguise Dark Spots & Hyperpigmentation on the skin, Moisturize, Restores suppleness, Reduces Redness, Acne-Fighting, & Minimizes the appearance of dry/damaged skin.
NA18201900284
Read more
Skin Result
Safe Combine With
How to Apply
FAQ
Ingredients
Skin Result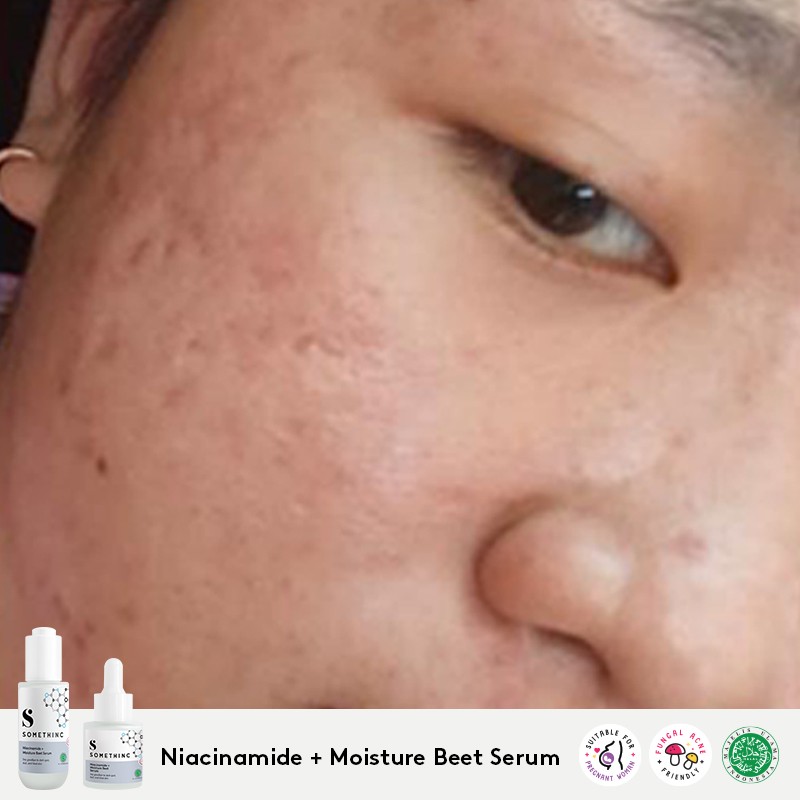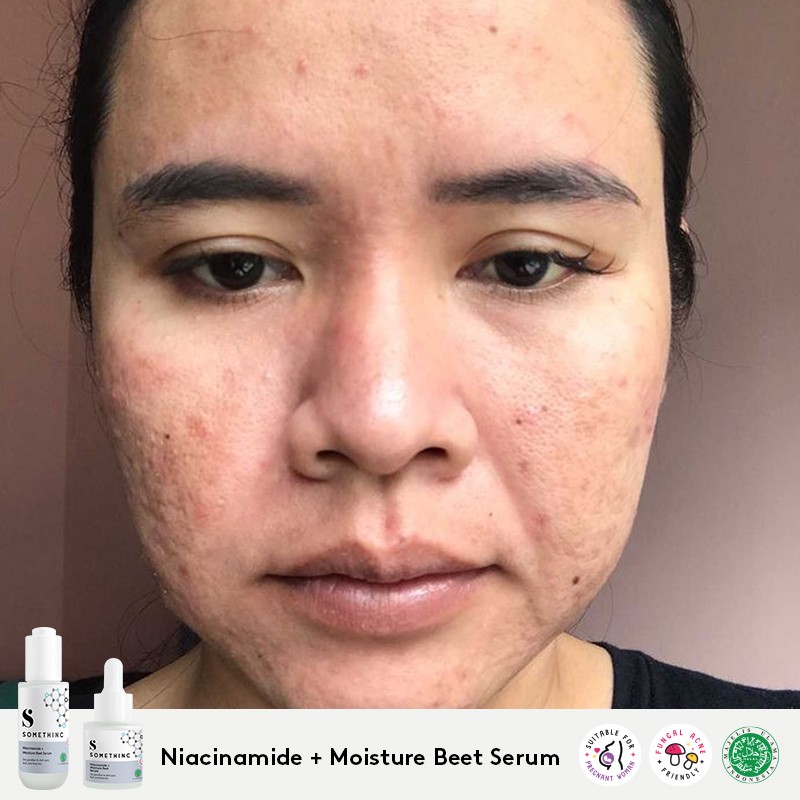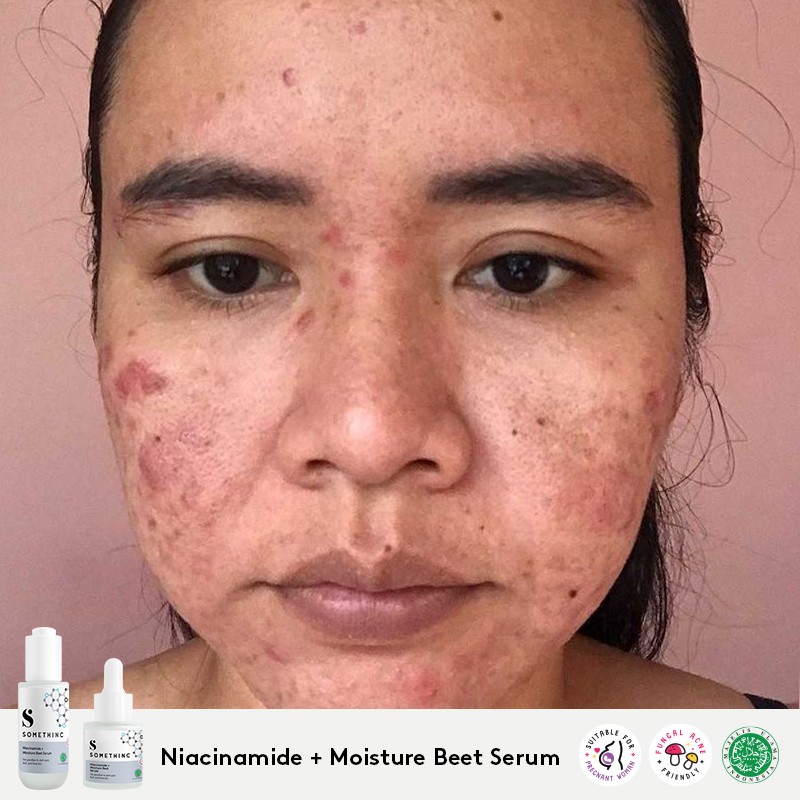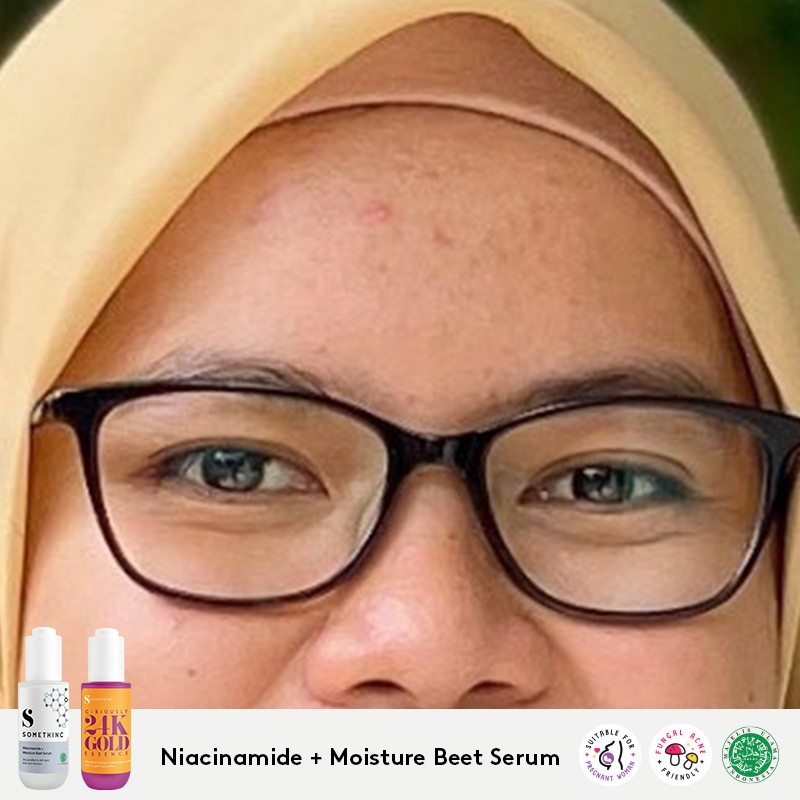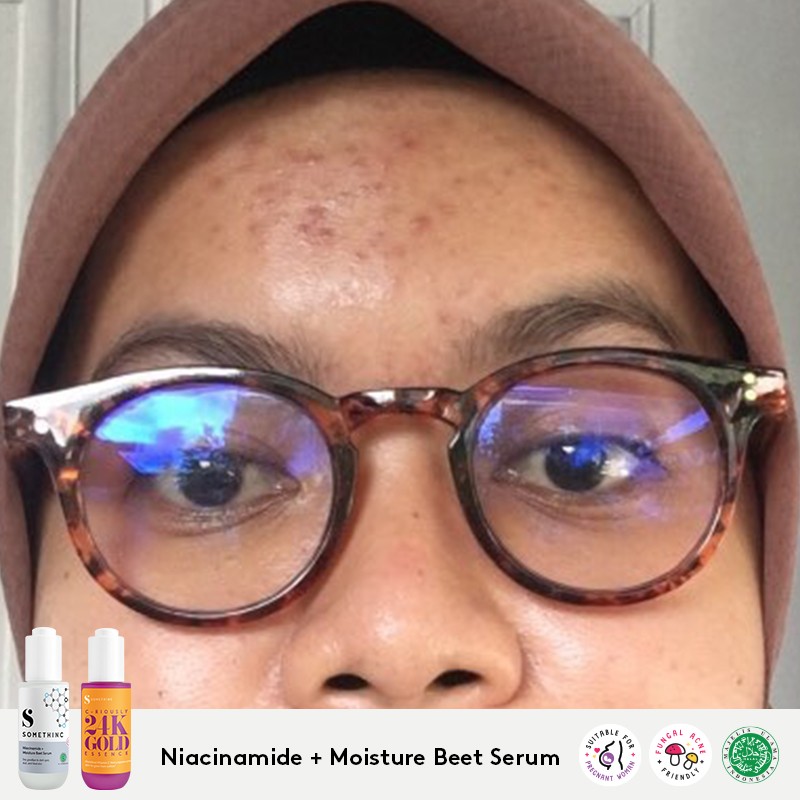 How to Apply
How to use it on its Own:
Apply 5 - 10 drops of serum into your palm. Lightly press your palms onto your cleansed face and pat the serum in outwards and upwards motions until it is fully applied to your face and neck. Wait for 1 - 3 minutes for the product to fully absorb. Can be used every day (night & day).
How to use with a whole skincare routine:
After cleansing, apply your facial toner. Then apply 5 - 10 drops of serum. After you've waited 1-3 minutes for the serum to absorb, apply Game Changer Eye Gel. Then you can layer or mix Bakuchiol Skinpair Oil Serum with Ceramic Skin Saviour Moisturizer. For the final step, apply sunscreen to protect your skin from UV rays.
How to use for layering:
For maximum results, layer with maximum 3 serums. Layer Niacinamide Moisture Sabi Beet Serum with Hyaluronic B5, Level 1% Retinol, or Bakuchiol Skinpair Oil Serum. Avoid the use of AHA BHA PHA Peeling Solution at the same time. You can still use it, one day after Niacinamide.
FAQ
Is there any fragrance in this serum ingredients?
NO
What is the pH of Somethinc HYALuronic B5 Serum?
pH +-5.5
Are there any ingredients that should be avoided when using Niacinamide + Moisture Beet Serum?
It is better to avoid AHA BHA when using this, because they have different acidity levels & there is a possibility not compatible each other.
However, if there is an AHA BHA & niacinamide 1 product, then the product is safe to use because the pH has been adjusted & our RND put a stabilizer so that their functions compatible with each other.
When I should use Niacinamide + Moisture Beet Serum in my skincare routine?
Ideally, this would be twice a day and always after cleanser, toner, and then you can use Niacinamide + Moisture Beet Serum. You can use this serum up to 3 layers.
Is it safe for everyday use?
Yes, it is. SOMETHINC Niacinamide + Moisture Beet Serum is useful for skin protection by strengthening the skin barrier, protect from pollution, and helps to brighten also disguise dark spots on the skin.
Can I use Niacinamide + Moisture Beet Serum for my dry skin?
Of course, you can! It contains Beet that helps to moisturize and smooth the skin.
Are somethinc products already HALAL certified and already registered to BPOM?
Yes, Somethinc products already registered to BPOM and received a Halal certificate from MUI.
Is this product safe for pregnant women/breastfeeding moms?
The ingredients that we have formulated already received BPOM standard approval, so our products are safe for daily use. But considering that pregnant women sometimes have allergies to certain things & hormonal changes, it's better to consult the ingredients in your skincare products to an obstetrician.
I am a teenager, can I use this?
yes, but we recommend this serum from 13years old & up.
Otherwise, you can try Somethinc Bakuchiol Skinpair oil serum if you are 11 years old <3
Ingredients
Aqua, Allantoin, Niacinamide, Glycerin, Hydroxyethylcellulose, Butylene glycol, Edta, Fructooligosaccharides, Beta Vulgaris Toot Extract (Beet), Phenoxyethanol.
4.9
Write a Review
Yuni Marantika
17/05/2021
Produk Wajib
pertama kali pake kalo gak salah sekitar akhir tahun 2019, terhitung sudah lebih dari 10 kali repurchase. iya, ini produk memang seajaib itu, aku merasa semenjak pake produk ini skin barierku membaik, bruntusan ilang, dark spot sangat sangat berkurang, dan yang paling nampak hasilnya adalah mencerahkan, pokoknya ini produk wajib yang harus aku pake, secinta itu sama serum ini, dan sangat nyaman dipakai karena ringan, mudah menyerap, makeup jadi lebih nempel, jadi sudah tidak diragukan lagi
Repurchase!
Cinta bangettt bangettt!! Emang udah cocok parah. Bagus bangettt gaboong. Ini udah botol ke2 aku pake dan sangat membantu menghilangkan noda hitam bekas jerawat walopun perlahan tapi pasti dan ngerasa jadi glowing juga cerah gitu
Recommends this product
Nita Purwaningsih
13/04/2021
Serummm ajaibbbb
Serummmmm favorit yang sangat membantu banget kebutuhan kulitku , benerbener bisa banget menghilangkan bekas jerawat , mencerahkan dan mengecilkan poriporiku yang besar. Sampe udah abis 3botol dong????
Recommends this product
Marsha Sabrina
07/04/2021
Amazing oil control, great for redness!
Sedang jalan botol ke-2 yang 40 ml. Permasalahan kulit utamaku jerawat dan kemerahan. Ini produk pertama yang ku reach out pas lagi istirahat dari perawatan dokter. Jadi waktu itu benar2 cuma pakai cleanser dan serum ini, tanpa moisturizer, tiap pagi dan malam. Dia memberikan efek matte di aku tapi melembabkan dari dalam, sebum control nya sih yang luar biasa, dan setelah pemakaian 3 hari memang sudah langsung terlihat improvementnya dalam hal oil control dan kestabilan kulit in general. Kalau untuk mengatasi kemerahan dan meratakan warna kulit, baru terlihat sebulan kemudian. Untuk jerawat dan komedo, memang cukup membantu untuk pencegahannya karena kemampuan oil control dan meningkatkan skin barriernya. Kalau untuk menghilangkan jerawat/komedo itu sendiri, atau menghaluskan tekstur baru terlihat full potentialnya pas dibantu dengan retinol dan proper hydration dengan hyaluronic acid dan pelembab. Slight issues yaitu cukup gemes juga layering dia dengan spot treatment seperti benzoyl peroxide dan beberapa pelembab atau sunscreen, karena dia suka berkerak dan pilling. Tpi ga menimbulkan efek negatif apa-apa sih.
Recommends this product
Serum ter enak
Suka banget pake ini aku suka semua produk somethinc bikin cerah n redain jewarat
Recommends this product