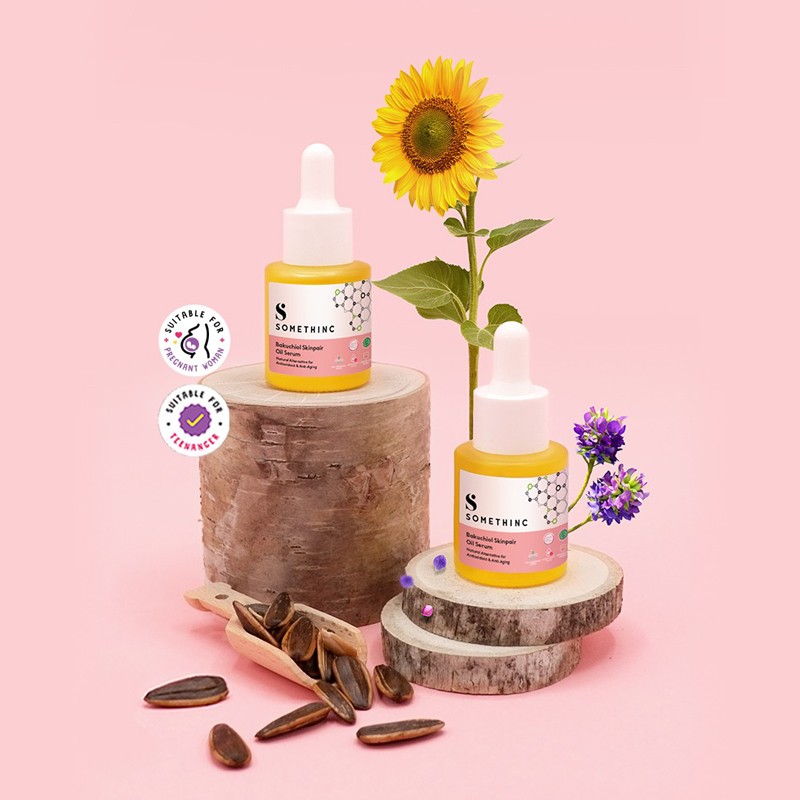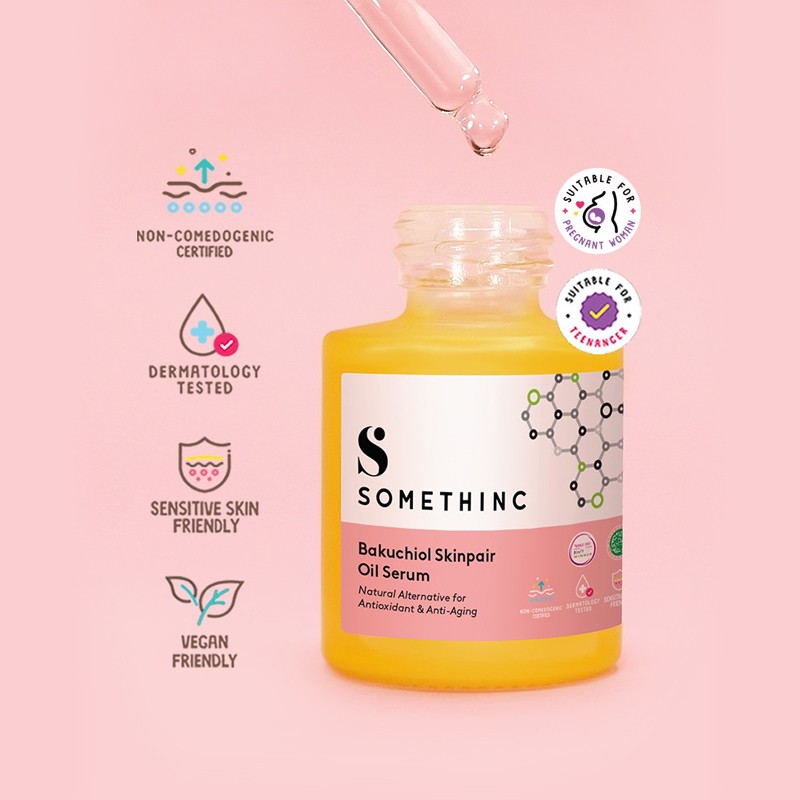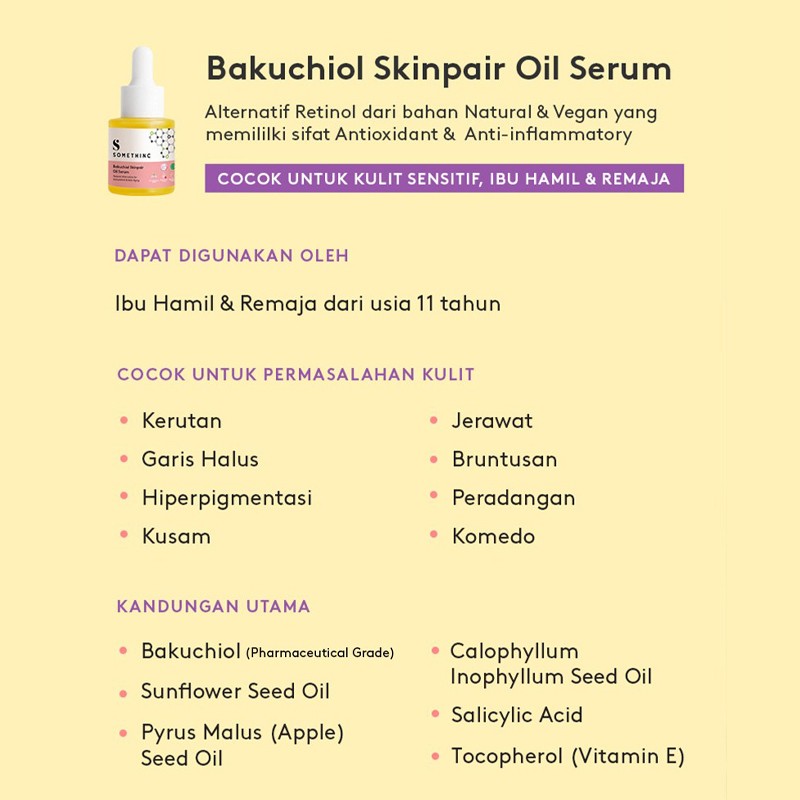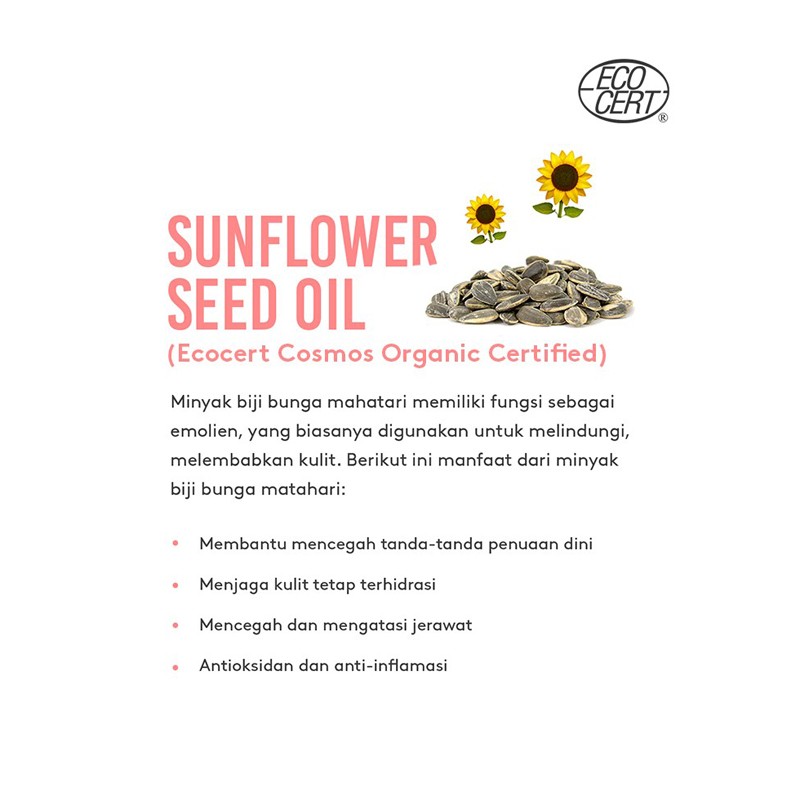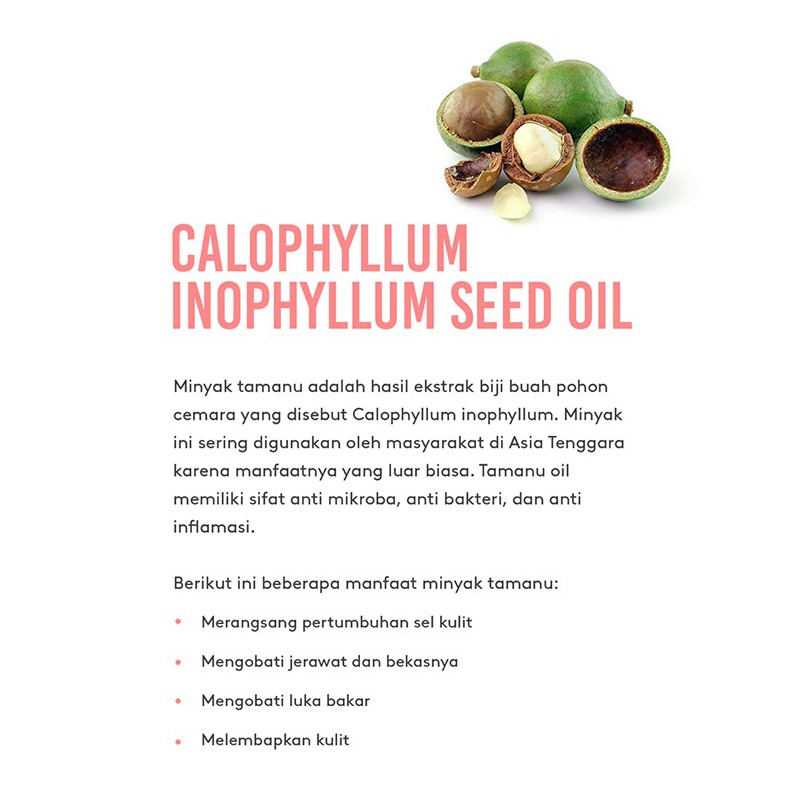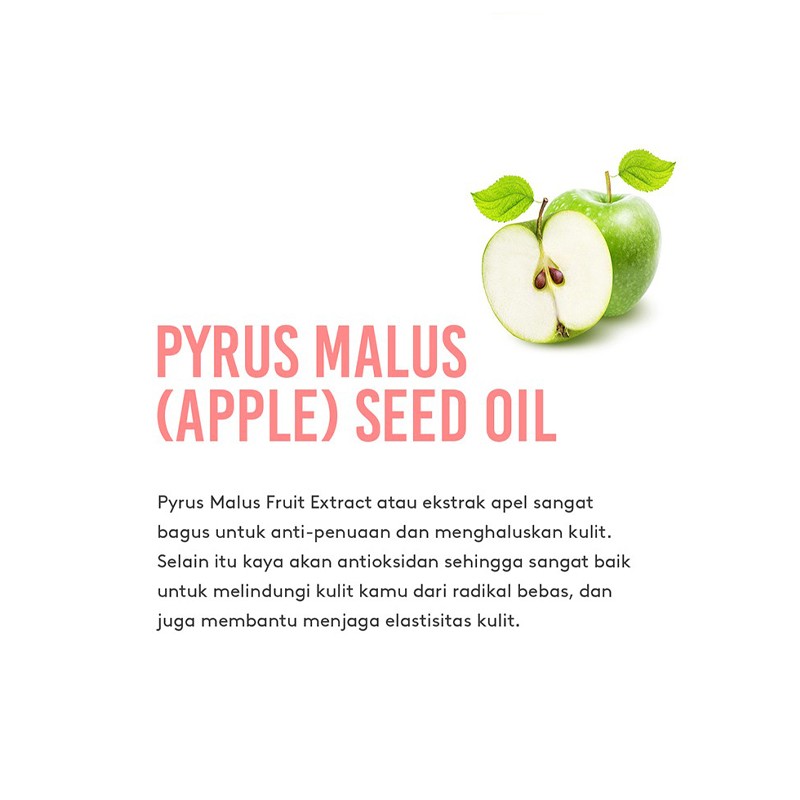 BAKUCHIOL Skinpair Oil Serum
Rp 89.000
A Natural + Vegan Alternative to Retinol that has Potent Antioxidant properties, anti-inflammatory, Acne Care, Stimulate Collagen, Improve Skin texture, with minimal side effects than retinol.
(So yes, It's suitable for sensitive skin, Pregnant Women, & Teens too!)
After 12 weeks, Skin Elasticity,& Firmness increase, while your Photoaging, wrinkles & hyperpigmentation decrease.
Bakuchiol is a 100% natural active ingredient obtained from the Babchi (Psoralea corylifolia plant), that has been used in Ayurvedic & Chinese Medicine for centuries.
Safe for All Skin Types, & even Recommended to those with Oily/Acne-Prone skin due to its Anti-inflammatory, Antioxidants, Antibacterial and Clinically proven Anti-Acne properties.
Bakuchiol works to Increase Cell Turnover, Restore Skin's Elasticity + Collagen, & Age Delay since now.
BENEFIT of SOMETHINC BAKUCHIOL SKINPAIR SERUM:
- Plant-based + Natural Alternative to Retinol
(Yes! Pregnant women & teens can use this one too!)
- Potent Antioxidant & Anti Aging Properties
- Anti-inflammatory, Reducing Acne(Shoutout to Acne Fighter)
- Photostable (safe to use in the mornings)
- Improve Skin's Texture & Elasticity
- Minimal Side Effects than Retinol
- Stimulate Collagen & Cell Turnover production in your skin
NA18202000303
Read more
Skin Result
Safe Combine With
How to Apply
FAQ
Ingredients
Skin Result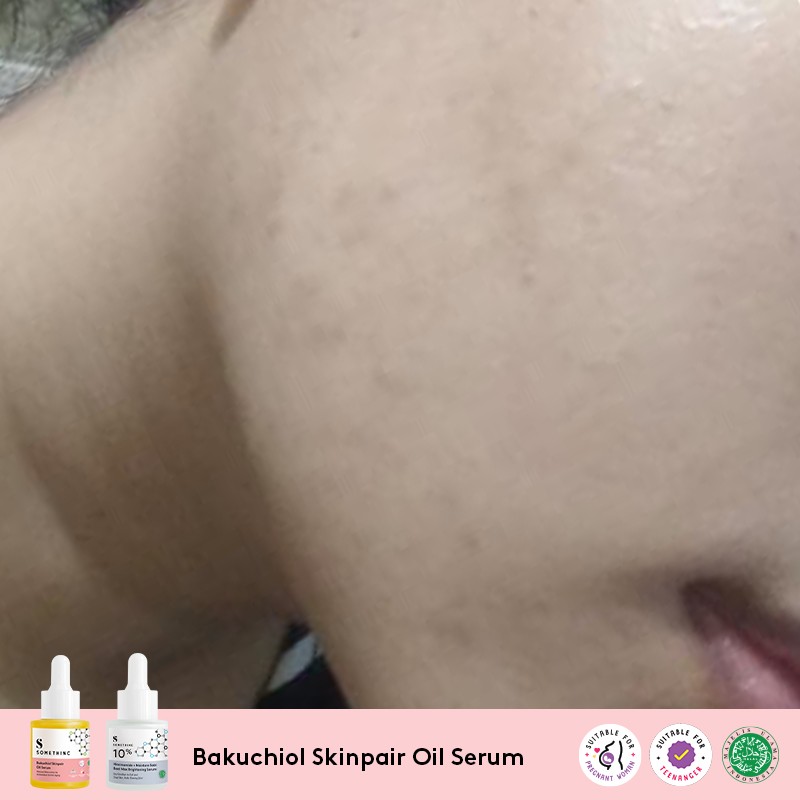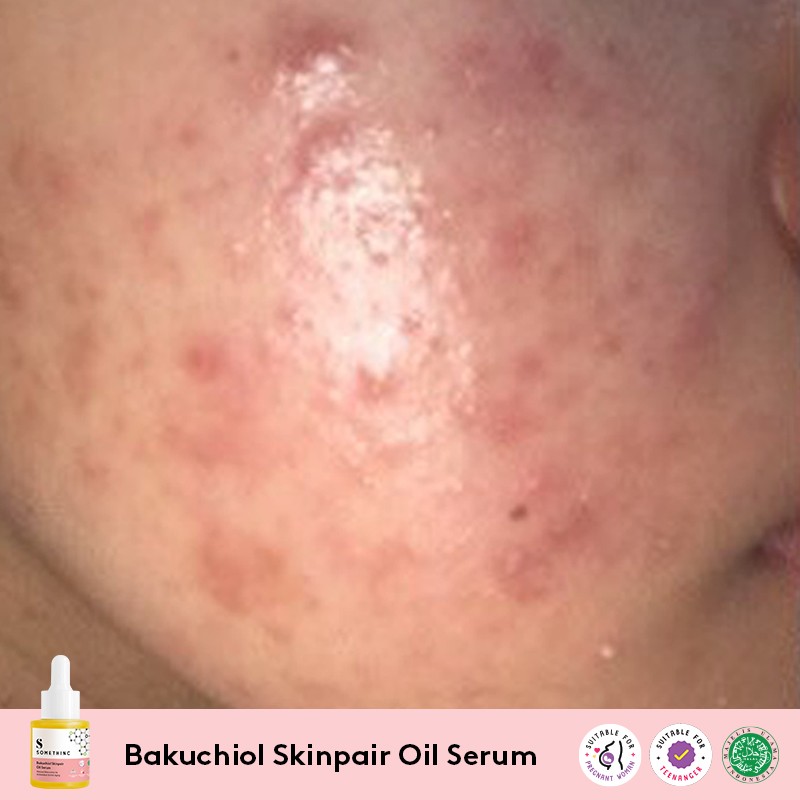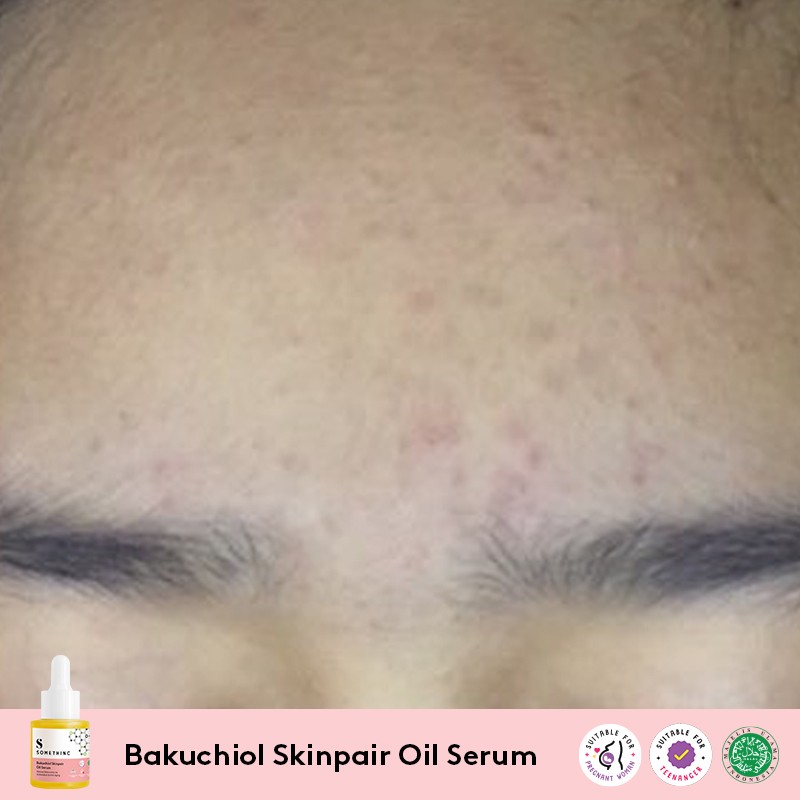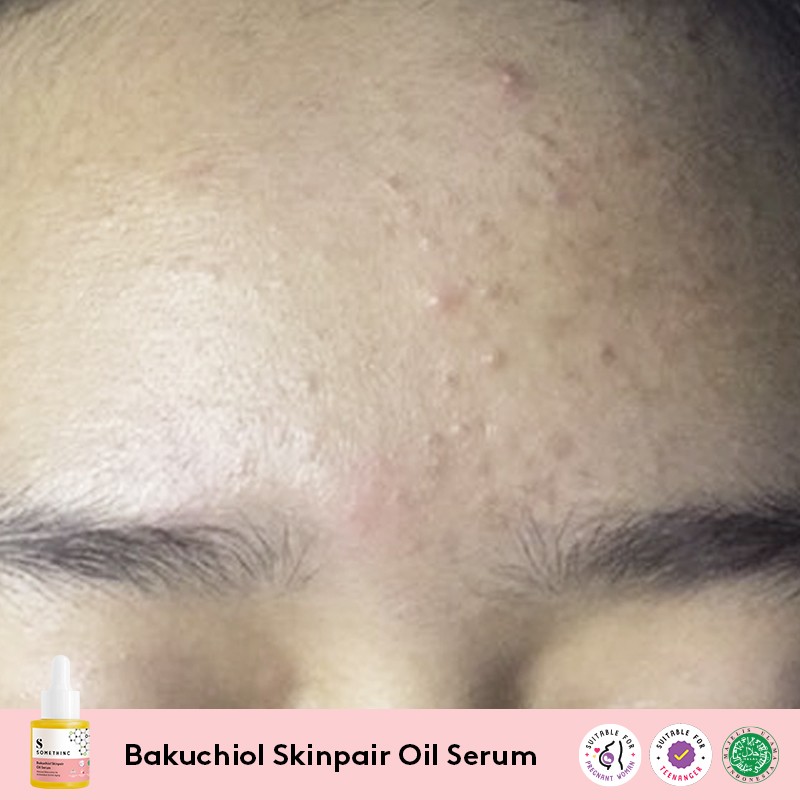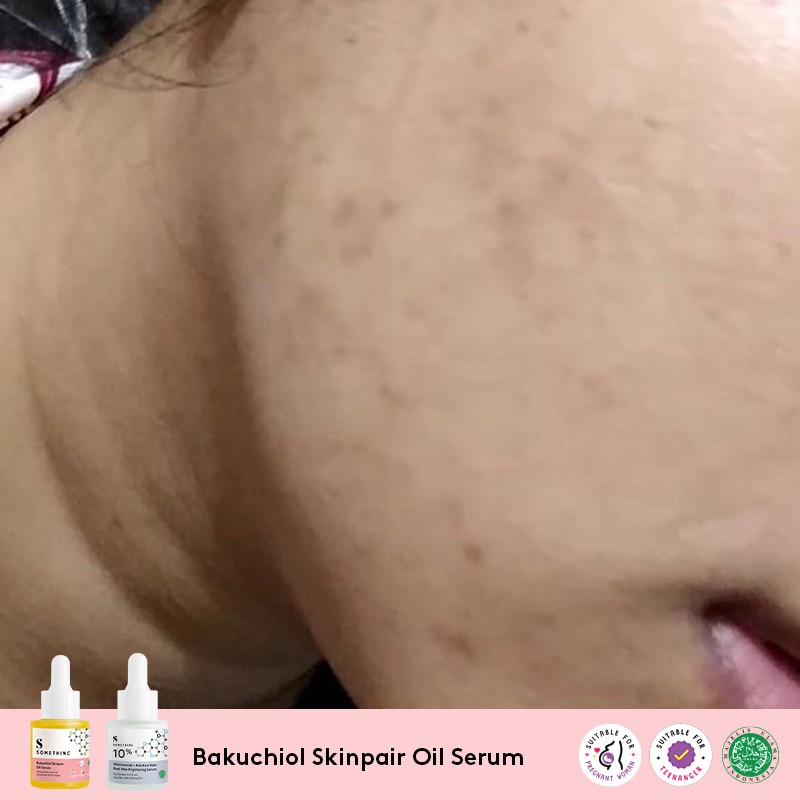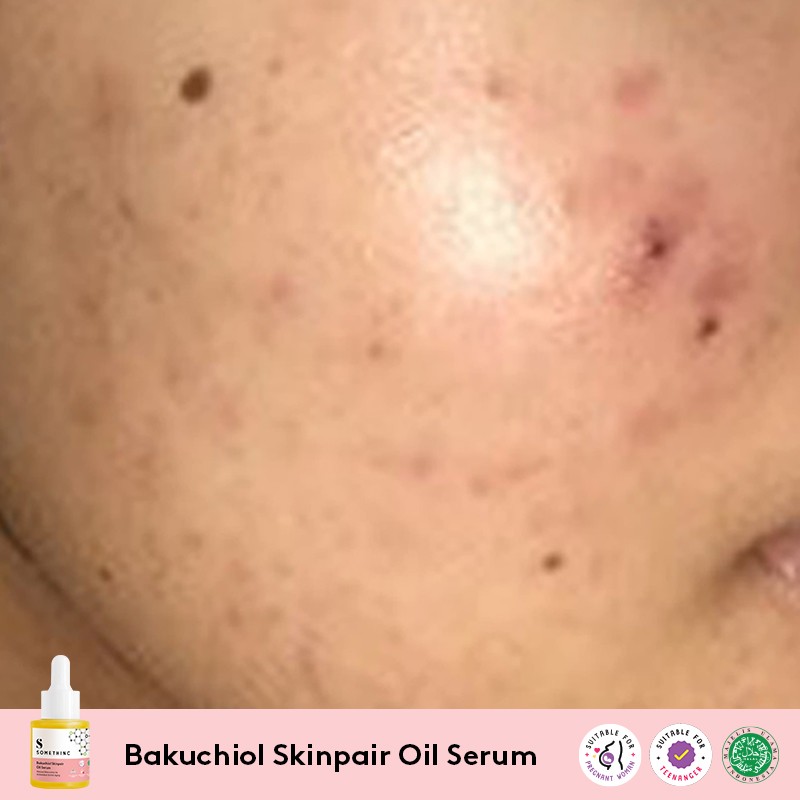 How to Apply
How to use it on its Own:
Apply 5 - 10 drops of serum into your palm. Lightly press your palms onto your cleansed face and pat the serum in outwards and upwards motions until it is fully applied to your face and neck. Wait for 1 - 3 minutes for the product to fully absorb. Can be used every day (night & day).
How to use with a whole skincare routine:
After cleansing, apply your facial toner. Then apply 5 - 10 drops of serum. After you've waited 1-3 minutes for the serum to absorb, apply Bakuchiol Skinpair Oil serum the same way or mix it with Ceramic Skin Saviour. Then apply Game Changer Eye Gel. For the final step, apply sunscreen to protect your skin from UV rays.
How to use for layering:
For maximum results, layer with maximum 3 serums. Layer Bakuchiol Skinpair Oil Serum with Niacinamide Moisture Sabi Beet Serum, Ceramic Skin Saviour, or you can layer it with all of the active ingredients serum.
FAQ
What's difference between Retinol and Bakuchiol?
Bakuchiol is a natural + vegan alternative to retinol who has a potent antioxidant roperties, anti-inflammatory, acne care, stimulate collagen, improve skin texture, with minimal side effects than retinol.
Is Bakuchiol Really Effective Enough to Be a 'Natural Retinol Alternative'?
Bakuchiol has been proven to have the same collagen-regulating and gene-modifying properties as retinol.
What are the benefits of using Bakuchiol Skinpair Oil Serum?
It's been to improve skin brightness, sort uneven skin tone, up plumpness, minimise enlarged pores, boost firmness, smooth out texture and lessen fine lines.
When should use Bakuchiol Skinpair Oil Serum?
You can use Bakuchiol Skinpair Oil Serum since 11 years old.
When is the best time to use Bakuchiol Skinpair Oil Serum?
The best time to use Bakuchiol Skinpair Oil Serum both morning and night
Is this product safe for pregnant women/breastfeeding moms?
Yes. Bakuchiol Skinpair Oil Serum has hypoallergenic certification which means safe for pregnant women and teens.


How to use
Use dropper to apply 5-10 drops onto palm.
Pat onto cleaned face and let it be absorbed by skin for 1-3 minutes.
After that, you can use your daily moisturizer.
Ingredients
Helianthus Annuus Seed Oil, Caprylic, Pyrus Malus Seed Oil, Calophyllum Inophyllum Seed Oil, Salicylic Acid, Bakuchiol, Tocopherol
4.9
Write a Review
Wahyu Tri Utami
20/07/2021
love at first try
Produk serum Somethinc pertama yang aku coba dan langsung suka, plus jadi pengen cobain serum2 lainnya. Baru 2x pakai aja milia di bawah mata berkurang, jadi mengecil padahal tadinya lumayan gede. Bayangin kalo udah abis sebotol kayaknya masalah hidupku bakal ikut berkurang juga.
BAKUCHIOL Skinpair Oil Serum
Bruntusan d wajahku perlahan-lahan ilang dong. Sekeren itu emang ini produk.
Recommends this product
loml????????
pake ini + serum barrier bikin beruntusan hempas dan hilang , my skin becomes better and smoother too! , sumpah gabisa berkata kata lagi sama bakuchiol ini , ???????????? buat kalian yang punya bruntusan and jerawat I recommend you to try sih! , also it makes my skinn glow and much healthier ????????
Recommends this product
Yuni Marantika
17/05/2021
First Face Oil
untuk pertama kalinya pengen nyobain face oil, mau nyoba retinol juga tapi masih ragu karena kulit yang kadang sensitif, penasaran banget sama bakuchiol ini dan akhirnya nyobain, udah habis satu botol, aku kombinasi sama niacinamide hasilnya ternyata amazing, kulit jadi kenyal dan konsisten lembab (kulitku kadang jadi superdry), untuk tekstur sebenernya gak ada masalah, hanya saja ada bau yang khas dari si bakichiol ini, but so far hasilnya bagus di kulitku
Recommends this product
Secinta itu sama sii Bakuchiol inii ??
Suka banget sama si oil serum satu ini . dark spot aku yg bekas2 jerawat tuh bner2 langsung pudar gitu . emang sih oil serum ini aku pake sama si sabi beet serum yg 5% . tiap bangun tidur tuh muka ku jadi glasskin bagus gituu deh .. walaupun emg pakai ini jadi oily gt kan pas pake nya tapiiu aku suka pokonyaa . dan awet banget sii oil inii ???? harus banget dii coba .. ????
Recommends this product