10% Niacinamide + Moisture Sabi Beet Max Brightening Serum
Rp 115.500
Introducing our new Niacinamide member: 10% Niacinamide (Pharmaceutical grade) + Sabi Beet Brightening Serum.
Helps you to achieve a maximum level of crystal bright skin, Improve your skin texture, Strengthen Skin Barrier, Disguise Dark Spots & Hyperpigmentation on the skin, Moisturize, Restores suppleness, Reduces Redness, Acne-Fighting, & Minimizes the appearance of dry/damaged skin. Get your #BrightBeautifully skin in 4 weeks!
NA18201901839
Read more
Skin Result
Safe Combine With
How to Apply
FAQ
Ingredients
Skin Result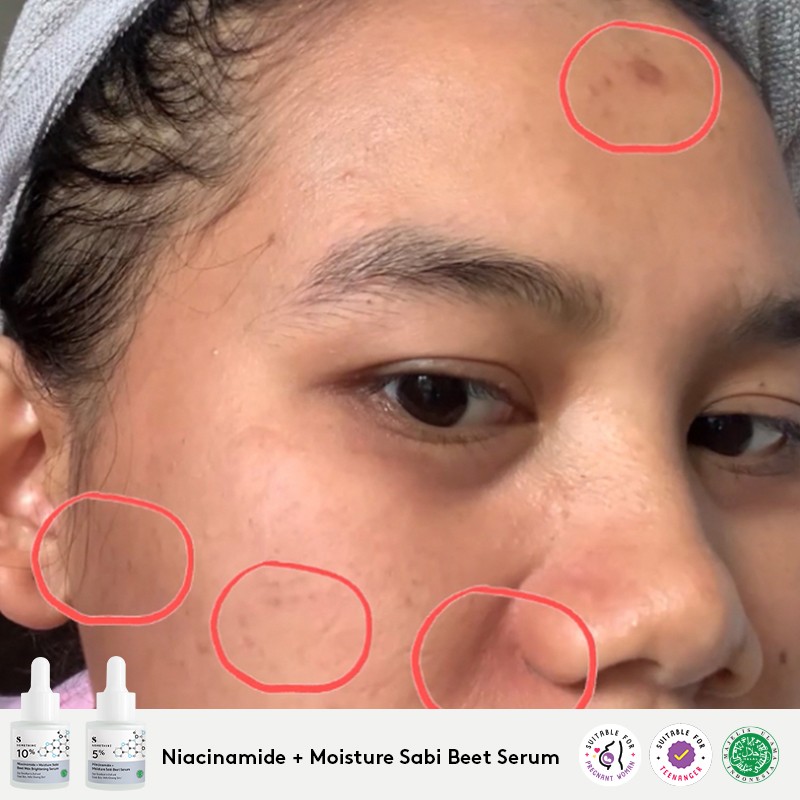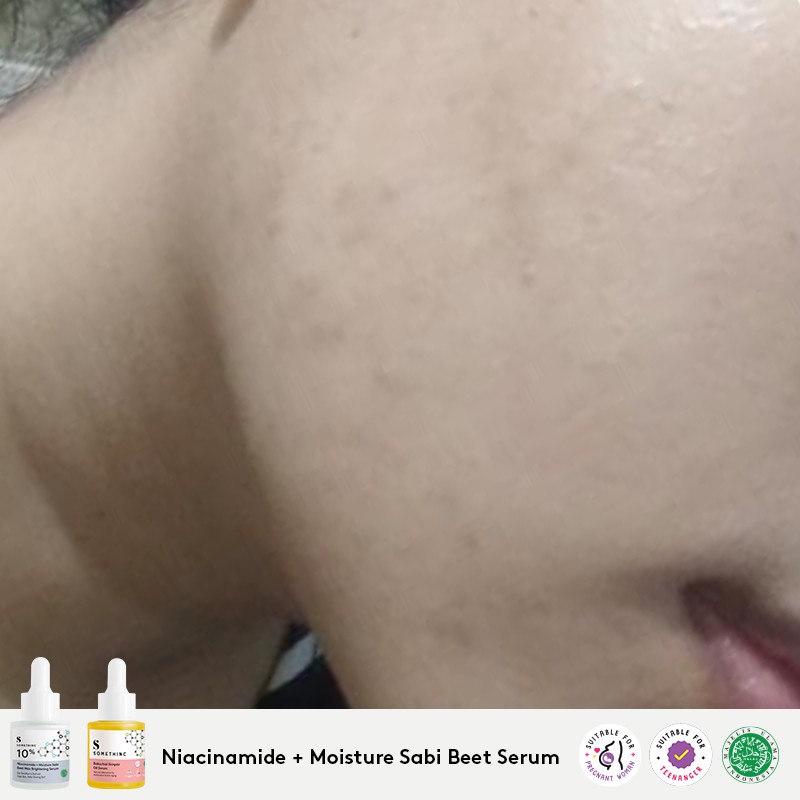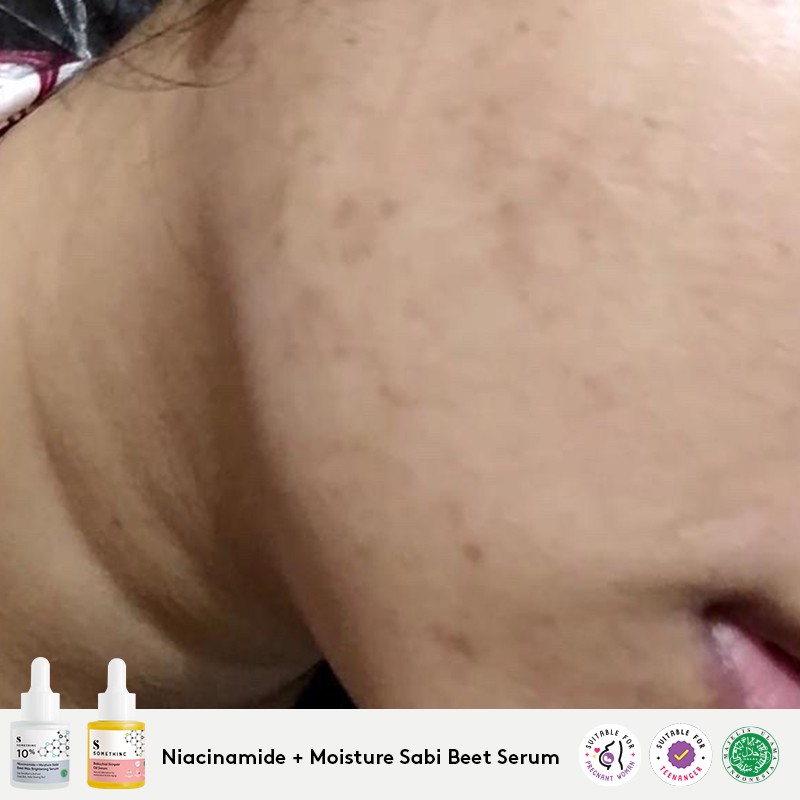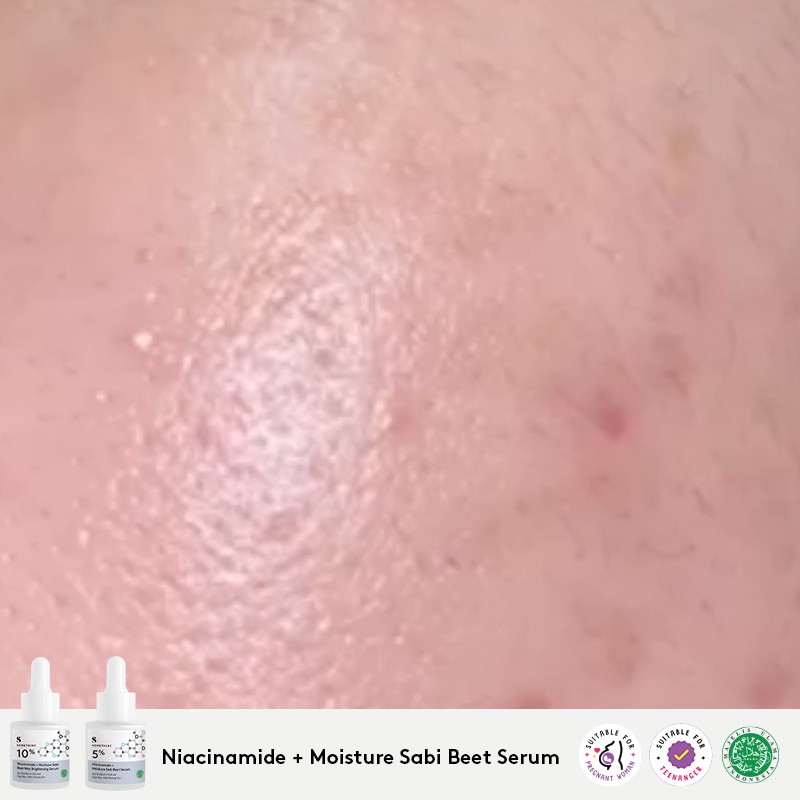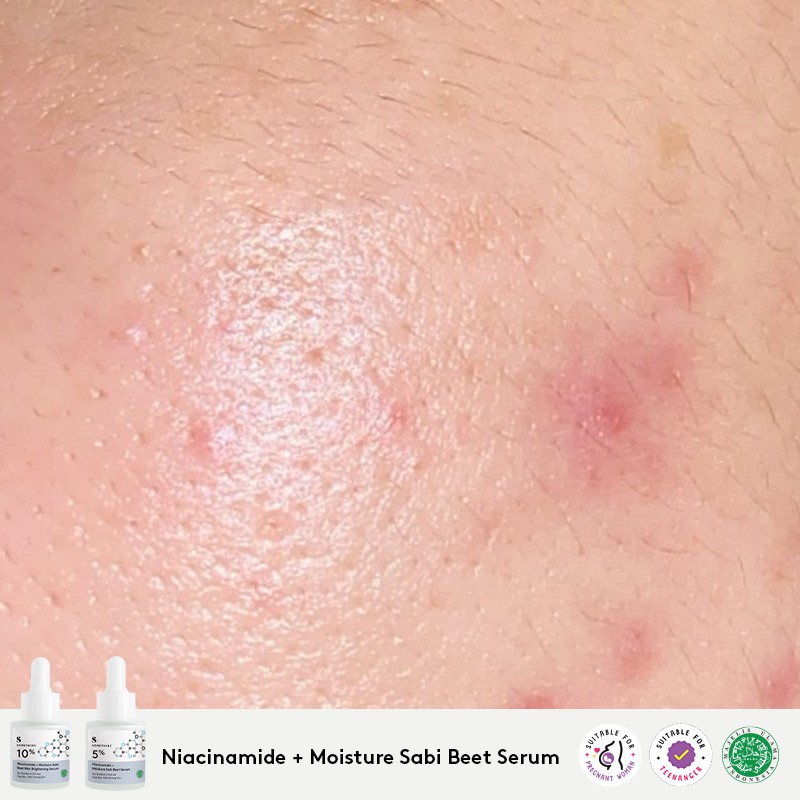 How to Apply
How to use it on its Own:
Apply 5 - 10 drops of serum into your palm. Lightly press your palms onto your cleansed face and pat the serum in outwards and upwards motions until it is fully applied to your face and neck. Wait for 1 - 3 minutes for the product to fully absorb. Can be used every day (night & day).
How to use with a whole skincare routine:
After cleansing, apply your facial toner. Then apply 5 - 10 drops of serum. After you've waited 1-3 minutes for the serum to absorb, apply Game Changer Eye Gel. Then you can layer or mix Bakuchiol Skinpair Oil Serum with Ceramic Skin Saviour Moisturizer. For the final step, apply sunscreen to protect your skin from UV rays.
How to use for layering:
For maximum results, layer with maximum 3 serums. Layer Niacinamide Moisture Sabi Beet Max Serum with Hyaluronic B5, Level 1% Retinol, or Bakuchiol Skinpair Oil Serum. Avoid the use of AHA BHA PHA Peeling Solution at the same time. You can still use it, one day after Niacinamide.
FAQ
Is there any fragrance in this serum ingredients?
NO.
What's The difference between 5% Sabi & 10% Sabi?
5% is Best for:
If you are afraid to try %high dose, you can try from 5%
The one who has a low %tolerance with actives ingredients, especially Niacinamide
10% is best for:
Pro. The one who really understand what kind of actives their skin needs

The one who need %higher actives into their skincare routine

The one who has high tolerance with %actives
What is the pH of Somethinc Niacinamide + Moisture Sabi Beet Brightening Serum?
pH +-6
Are there any ingredients that should be avoided when using Niacinamide + Moisture Sabi Beet Brightening Serum?
It is better to avoid AHA BHA when using this, because they have different acidity levels & there is a possibility not compatible each other.
However, if there is an AHA BHA & niacinamide 1 product, then the product is safe to use because the pH has been adjusted & our RND put a stabilizer so that their functions compatible with each other.
When I should use Niacinamide + Moisture Sabi Beet Brightening Serum in my skincare routine?
Ideally, this would be twice a day and always after cleanser, toner, & then you can use this Niacinamide + Moisture Sabi Beet Brightening Serum.
You can use this serum up to 3 layers.
Is it safe for everyday use?
Yes. SOMETHINC Niacinamide + Moisture Sabi Beet Brightening Serum is safe to use for everyday, everytime <3
Can I use Niacinamide + Moisture Sabi Beet Brightening Serum for my dry skin?
Of course, you can! It contains Beet & Vitamin E that helps to moisturize and smooth the skin
Are somethinc products already HALAL certified and already registered to BPOM?
Yes, Somethinc products already registered to BPOM and received a Halal certificate from MUI.
Is this product safe for pregnant women/breastfeeding moms?
The ingredients that we have formulated already received BPOM standard approval, so our products are safe for daily use. But considering that pregnant women sometimes have allergies to certain things & hormonal changes, it's better to consult the ingredients in your skincare products to an obstetrician.
I am a teenager, can I use this?
yes, but we recommend this serum from 13years old & up.
Otherwise, you can try Somethinc Bakuchiol Skinpair oil serum if you are 11 years old <3
Ingredients
Star Ingredients:
72,5% Centella Asiatica Water
SabiWhite®
10% Niacinamide (Pharmaceutical Grade)
Hydrolyzed Algae Extract (Retired)
Anthemis Nobilis Flower Extract
Beta Vulgaris (Beet) Root Extract
Caffeine
Tocopherol (Vit E)
Full Ingredients:
Centella Asiatica Water (72,5%), Niacinamide (10%), methylpropanediol, Betaine, water, 1,2-Hexanediol, glycerin, polysorbate20, ammonium acryloyldimethyltaurate/vp copolymer, polyglyceryl10 laurate, Tetrahydrocurcumin, butylene glycol, xanthan gum, ethylhexylglycerin, adenosine, Hydrolyzed Algae Extract, Anthemis Nobilis Flower Extract, Beta Vulgaris (Beet) Root Extract, allantoin, Caffeine, Tocopherol(Vit E).
4.9
Write a Review
Maria Steffany
15/07/2021
sudah 6 bulan & masih lanjut
awalnya coba yg OG size kecil karena mau liat dulu hasilnya kalau 2x seminggu dan sampai habis kaya apa, and turned out to work like magic! akhirnya decide lanjut pakai yg 10% ini & pakai setiap malam. pagi harinya wajah plumpy, seger, gak over oily, dan bekas jerawat memudar, bibit jerawat juga besoknya gajadi keluar ???? seneng banget pokonya sama hasilnya & recommended bgt buat yg mau simple night skincare cukup pakai toner & serum ini langsung tidur pun oke aja! ????
Penghilang bekas jerawat
Aku suka banget dia ampuh banget ngilangin bekas jerawat aku yg merah dan besar, sumpah makasih banget ????????????????
Recommends this product
Ribkah Aprilia
19/05/2021
Serum favorite
Aku sudah coba 5% dan jg yg 10%. Teksturny lebih kental yg ini tapi Hasilnya lbh kelihatan yg 10%. Walau tekstur lbh kental tp saat diaplikasikan diwajah terasa nyaman. Wajah jg lbh kelihatan cerah dan jg lembab. Selama pakai aku cocok" aaja sama serum ini.
Recommends this product
Luv beud
Untuk kesekian kalinya pake serum kesayngan, gak ada ragu lagi sama prodak ini thx somethinc
Recommends this product
Claudya Chyntia
16/04/2021
kulit lebih halus
awal pake, jujur aku purging sih. sempet bingung tp googling, baru aku kenal istilah purging dan aku tetep lanjutin pake. dan 3 hari kemudian udah ilang bruntusanku, kulitku malah jadi halus banget. bekas2 jerawat di dagu mulai ilang, hidungku yg biasa kasar krn komedo skrg jg haluuss. masih ada sih komedo krn pori2ku memang gede, tp komedonya bukan komedo hitam dan kasar kayak dulu. seneng banget sih hehehe tp kalo gk terbiasa skincare-an, jgn beli yg 10% dulu ya. beli yg 5% aja biar kulit gk kaget
Recommends this product